ZFIN ID: ZDB-FIG-130401-19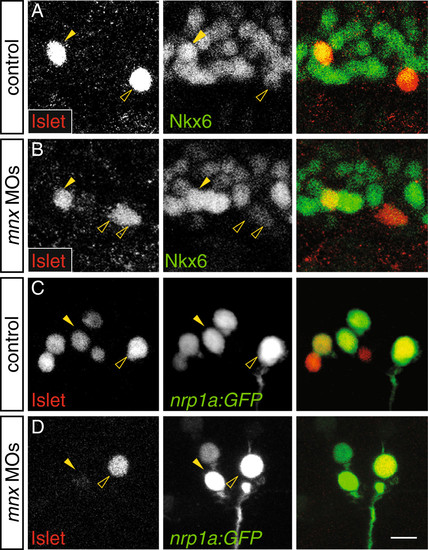 Fig. 6 Mnx proteins maintain the late phase of Islet1 expression in MiPs independently of Nkx6. (A-D) Single spinal hemisegments of control and mnx MO-injected embryos. MiPs (closed arrowheads) and CaPs (open arrowheads) are indicated in each of the single channel panels; right column shows merged channels. (A) At 17 hpf, MiPs in control embryos strongly express Islet and Nkx6 (17/30 Nkx6+ MiPs in seven embryos). CaPs strongly express Islet but weakly express Nkx6. (B) MiPs in mnx MO-injected embryos continue to strongly express Islet and Nkx6 (13/22 Nkx6+ MiPs in five embryos). (C) At 21 hpf in Tg(nrp1a:GFP) control embryos, both MiPs and CaPs express Islet (32/32 Islet+ CaPs, and 31/32 Islet+ in five embryos. (D) In mnx MO-injected Tg(nrp1a:GFP) embryos, CaPs (60/60 Islet+ CaPs in 10 embryos) but not MiPs (19/60 Islet+ MiPs in 10 embryos), strongly express Islet. Scale bar: 20 μm.
Antibody Labeling Details
Phenotype Details
No data available
Acknowledgments:
ZFIN wishes to thank the journal Neural Development for permission to reproduce figures from this article. Please note that this material may be protected by copyright. Full text @ Neural Dev.