ZFIN ID: ZDB-FIG-121030-10
Your Input Welcome
Thank you for submitting comments. Your input has been emailed to ZFIN curators who may contact you if additional information is required.
Oops. Something went wrong. Please try again later.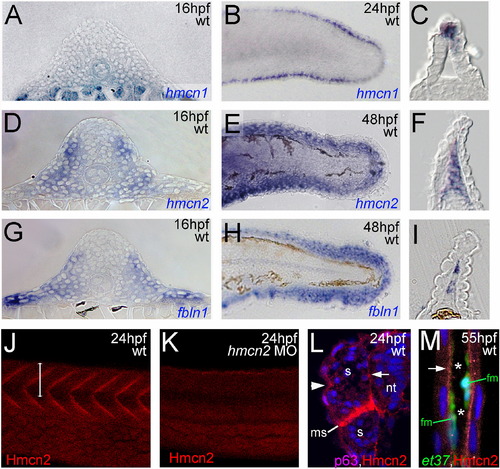 Fig. 1 hmcn2 and fbln1 are co-expressed in somites and fin mesenchymal cells. (A–I) In situ hybridizations with probes indicated in lower right corners; (A, D, G) transverse sections through trunk at 26 hpf (14 somite stage); (B, E, H) lateral view on tail at 24 hpf (B) or 48 hpf (E, H); (C, F, I) transverse sections through tail of embryos as shown in (B, E, H), respectively; view on dorsal median fin fold. (A, D, G) hmcn2 (D) and fbln1 (G) are co-expressed in somites, whereas hmcn1 (A) is not. (B, C, E, F, H, I) hmcn1 (B, C) is expressed in epidermal cells at the apical ridge of the fin fold, while hmcn2 (E, F) and fbln1 (H, I) are expressed in fin mesenchymal cells within the dermal (interepidermal) space of the fin fold. (J–M) Anti-Hmcn2 immunostainings. (J,K) Lateral view on trunk at 24 hpf, revealing Hmcn2 protein at myosepta of uninjected control (J), whereas myoseptal staining is absent in hmcn2 morphant (K). (L) Transverse section through 24 hpf wild-type embryo at level indicated in (J). counterstained with anti-p63 antibody to stain nuclei of basal keratinocytes, and DAPI to visualize all nuclei. Arrowhead points to Hmcn2 protein in dermal space between epidermis and somites, arrow to Hmcn2 protein between neural tube and somites. (M) Transverse section through dorsal fin at 55 hpf embryo, showing Hmcn2 protein in red, mesenchymal cells in green (anti-GFP of ET37 transgene product), and DAPI-positive nuclei in blue. Hmcn2 protein is present in continuous lines below the epidermal sheets (blue nuclei). Strikingly, Hmcn2 protein is not restricted to regions that contain fin mesenchymal cells and their protrusions (in green), but also found in more apical regions (indicated by arrow), in line with its non-pericellular function during the guidance of mesenchymal cell migration described below (Fig. 4). However, inner regions of the dermal space of the fin lack Hmcn2 signals (indicated by stars). Abbreviations: wt, wild type; hmcn2 MO, hmcn2 morphant; hpf, hours post fertilization; ms, horizontal myoseptum; nt, neural tube; s, somite.
Antibody Labeling Details
No data available
Phenotype Details
No data available
Acknowledgments:
ZFIN wishes to thank the journal Developmental Biology for permission to reproduce figures from this article. Please note that this material may be protected by copyright.

Reprinted from Developmental Biology, 369(2), Martins Feitosa, N., Zhang, J., Carney, T.J., Metzger, M., Korzh, V., Bloch, W., and Hammerschmidt, M., Hemicentin 2 and Fibulin 1 are required for epidermal-dermal junction formation and fin mesenchymal cell migration during zebrafish development, 235-248, Copyright (2012) with permission from Elsevier. Full text @ Dev. Biol.