ZFIN ID: ZDB-FIG-120423-23
EXPRESSION / LABELING:
| | |
| --- | --- |
| Gene: | |
| Antibodies: | |
| Fish: | |
| Anatomical Terms: | |
| Stage: | Prim-5 |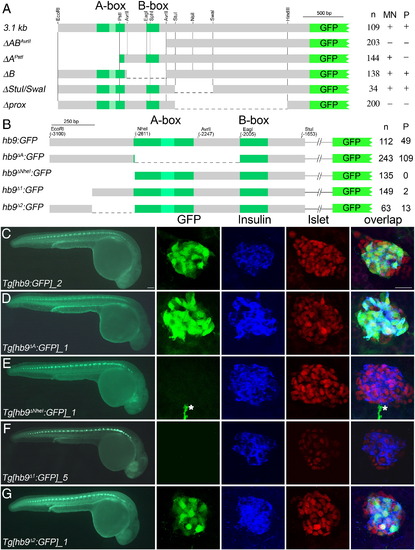 Fig. 2
Pancreas specific GFP expression in Tg[hb9:GFP] embryos requires distal non-conserved hb9 promoter sequences. (A) Scheme of non-Tol2 hb9-reporter constructs (left) and results of the transient reporter assay (right, indicated are the numbers (n) of embryos showing presence (+) or absence (-) of GFP signal in spinal cord (SC) and pancreas (P)). (B) Scheme of Tol2 hb9-reporter constructs (left) and results of transient reporter assays (right, indicated are the numbers of GFP positive embryos (n) and of embryos with GFP positive beta-cell (P)). (C–G) GFP expression in representative transgenic lines at 28 hpf in whole embryos (left panel) and in fixed tissue (right panel) stained with antibodies for GFP (green), insulin (blue) and islet (red). The right panel shows confocal image projections and the corresponding overlays (white asterisk in E marks a motor axon). Pancreatic GFP expression is found for reporter constructs lacking either the A-box (Tg[hb9-A:GFP], C) or the 249 bp flanking the A-box (Tg[hb9-2:GFP], F), but not for constructs lacking the most distal 229 bp (Tg[hb9-NheI:GFP], D; Tg[hb9-1:GFP], E). Scale bar corresponds to 100 µm (whole embryos) and 20 μm (confocal image stacks). For further details on the GFP expression in all transgenic reporter lines see Supplementary Table 1.
Antibody Labeling Details
Phenotype Details
No data available
Acknowledgments:
ZFIN wishes to thank the journal Developmental Biology for permission to reproduce figures from this article. Please note that this material may be protected by copyright.

Reprinted from Developmental Biology, 365(1), Arkhipova, V., Wendik, B., Devos, N., Ek, O., Peers, B., and Meyer, D., Characterization and regulation of the hb9/mnx1 beta-cell progenitor specific enhancer in zebrafish, 290-302, Copyright (2012) with permission from Elsevier. Full text @ Dev. Biol.