ZFIN ID: ZDB-FIG-120216-60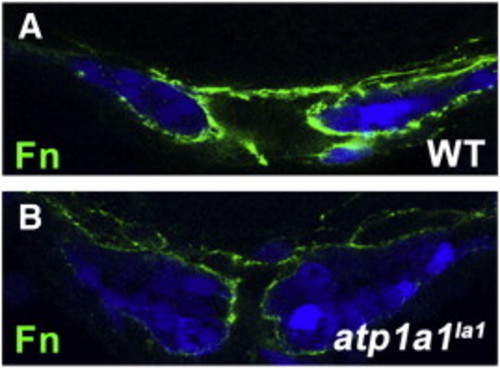 Fig. S1
Reduction of Fibronectin protein deposition around atp1a1la1 mutant myocardium. (A,B) Transverse vibratome sections of 20S stage wild type and atp1a1la1 Tg(myl7:EGFP) embryos. Wild type embryos (A) have Fibronectin protein (green) surrounding the cardiomyocytes of the cardiac cone (blue), while atp1a1la1 mutants (B) have reduced Fibronectin protein deposition.
Antibody Labeling Details
No data available
Acknowledgments:
ZFIN wishes to thank the journal Developmental Biology for permission to reproduce figures from this article. Please note that this material may be protected by copyright.

Reprinted from Developmental Biology, 362(2), Langenbacher, A.D., Huang, J., Chen, Y., and Chen, J.N., Sodium pump activity in the yolk syncytial layer regulates zebrafish heart tube morphogenesis, 263-270, Copyright (2012) with permission from Elsevier. Full text @ Dev. Biol.