ZFIN ID: ZDB-FIG-120126-62
EXPRESSION / LABELING:
| | |
| --- | --- |
| Genes: | |
| Fish: | |
| Anatomical Term: | |
| Stage: | 256-cell |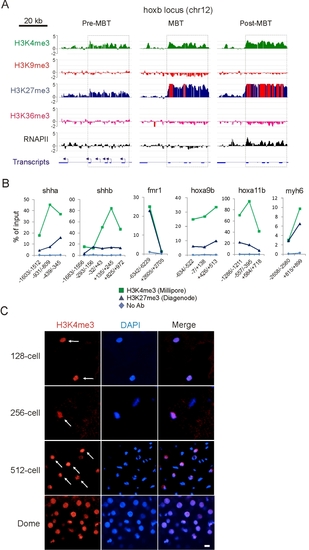 Fig. S2
Additional validation of H3K4me3 and H3K27me3 genomic association at the pre-MBT stage (related to Figures 1 and 2). (A) Enrichment in histone H3 trimethylation and RNAPII on the hoxb locus (boxed) at pre-MBT, MBT and post-MBT stages (MA2C scores). Red bars indicate out-of-scale MA2C scores. Primary transcripts are shown with TSS and transcription orientation (arrow). (B) ChIP-qPCR analysis of H3K4me3 (Millipore antibody) and H3K27me3 (Diagenode antibody) enrichment (mean from triplicate ChIPs). (C) Immunofluorescence detection of H3K4me3 in the animal pole of embryos at indicated stages (Cell Signaling antibody). Arrows point to examples of labeled nuclei. Scale bar, 10 μm.
Antibody Labeling Details
No data available
Phenotype Details
No data available
Acknowledgments:
ZFIN wishes to thank the journal Developmental Cell for permission to reproduce figures from this article. Please note that this material may be protected by copyright.

Reprinted from Developmental Cell, 21(6), Lindeman, L.C., Andersen, I.S., Reiner, A.H., Li, N., Aanes, H., Ostrup, O., Winata, C., Mathavan, S., Muller, F., Aleström, P., and Collas, P., Prepatterning of Developmental Gene Expression by Modified Histones before Zygotic Genome Activation, 993-1004, Copyright (2011) with permission from Elsevier. Full text @ Dev. Cell