ZFIN ID: ZDB-FIG-111215-10
PHENOTYPE:
Fish:
Condition:
Knockdown Reagents:
Observed In:
Stage Range:

Day 4

to

Day 5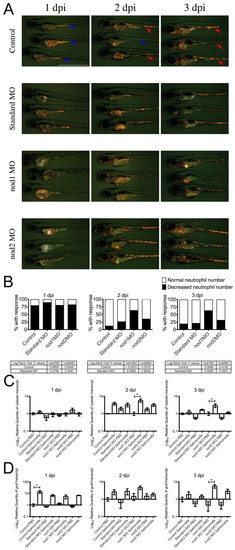 Fig. 3 Leukocytic response to yolk sac infection in control and morphant embryos. (A) Time course of Tg(lyzC:dsRed)50 control and morphant embryos infected by yolk sac injection with S. enterica at 2 dpf. In control row: red arrows indicate embryos with a normal number of neutrophils in the CHT; blue arrows indicate embryos with a decreased number of neutrophils in the CHT. Scale bar: 1 mm. (B) Analysis of neutrophil number in the CHT of S. enterica-infected Tg(lyzC:dsRed)50 embryos. Data represents three biological replicates; 50 embryos of each treatment were infected and followed for analysis. (C) Expression of l-plastin analyzed by qPCR. (D) Expression of gcsfr analyzed by qPCR. Data for qPCR experiments represents triplicate pools of five to ten embryos. Error bars represent s.e.m.; statistically significant differences of P<0.01 (**) as determined by ANOVA are marked.
Gene Expression Details
No data available
Antibody Labeling Details
No data available
Acknowledgments:
ZFIN wishes to thank the journal Disease models & mechanisms for permission to reproduce figures from this article. Please note that this material may be protected by copyright. Full text @ Dis. Model. Mech.