ZFIN ID: ZDB-FIG-100616-70
Takano et al., 2010
- Expression of strawberry notch family genes during zebrafish embryogenesis. Developmental dynamics : an official publication of the American Association of Anatomists 239(6):1789-1796
Full text @ Dev. Dyn.
EXPRESSION / LABELING:
| | |
| --- | --- |
| Genes: | |
| Fish: | |
| Anatomical Terms: | |
| Stage: | Prim-5 |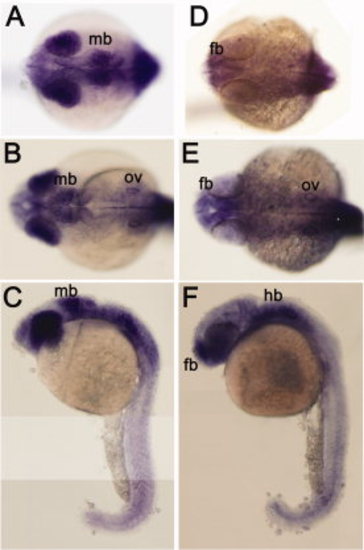 Fig. 5 Comparison of expression pattern of sbno1 and sbno2a at pharyngula (24 hours postfertilization [hpf]) stage. A-C: Strong expression of sbno1 was observed in the midbrain (presumptive tectal region) and the eyes at this stage. D-F: Expression of sbno2a is relatively high in the forebrain region at this stage. A and D are focusing on the forebrain region. B and E focus on the hindbrain region. C and F are lateral views of embryos with ventral to the left. fb, forebrain; hb, hindbrain; mb, midbrain; ov, otic vesicle.
Antibody Labeling Details
No data available
Phenotype Details
No data available
Acknowledgments:
ZFIN wishes to thank the journal Developmental dynamics : an official publication of the American Association of Anatomists for permission to reproduce figures from this article. Please note that this material may be protected by copyright. Full text @ Dev. Dyn.