ZFIN ID: ZDB-FIG-090306-9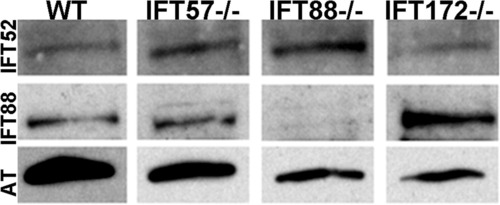 Fig. 8 Western blot analysis of whole wild type and IFT mutant embryos at 72 hpf. Immunoreactivity against IFT52 (top row) were detected in wild type and mutants at 72 hpf, confirming the expression of these subunits. IFT88 immunoreactivity (middle row) was not seen in the ift88 mutants but continued to be expressed in other mutants as well as wild type. Acetylated tubulin (AT) served as a control (bottom row).
Antibody Labeling Details
No data available
Phenotype Details
No data available
Acknowledgments:
ZFIN wishes to thank the journal Vision Research for permission to reproduce figures from this article. Please note that this material may be protected by copyright.

Reprinted from Vision Research, 49(4), Sukumaran, S., and Perkins, B.D., Early defects in photoreceptor outer segment morphogenesis in zebrafish ift57, ift88 and ift172 Intraflagellar Transport mutants, 479-489, Copyright (2009) with permission from Elsevier. Full text @ Vision Res.