ZFIN ID: ZDB-FIG-051215-3
Etard et al., 2005
- Mutation in the delta-subunit of the nAChR suppresses the muscle defects caused by lack of Dystrophin. Developmental dynamics : an official publication of the American Association of Anatomists 234(4):1016-1025
Full text @ Dev. Dyn.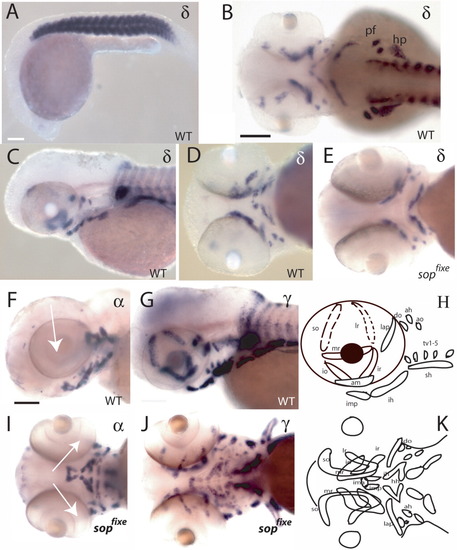 Fig. 4 Expression of acetylcholine receptor (AChR) subunits in wild-type and sopfixe fish. A-E: Expression of the δ-subunit in wild-type (A-D) and sopfixe mutant (E) embryos. The δ-subunit is expressed exclusively in muscles. No differences in expression levels between wild-type and sopfixe mutants were detected (compare D with E; A, 24 hpf; B-E, 50 hpf). F,G,I,J: Comparison of the expression of the α1-subunit (F,I) and the γ-subunit (G,J) at 72 hpf. In contrast to all other subunits analyzed, the α1-subunit does not continue to be expressed in eye muscles after 50 hpf (compare F, I, arrow, with G,J). H,K: Schematic drawing of the muscles in the head in lateral (H) and ventral (K) views. ah, adductor hyoideus; am, adductor mandibulae; ao, adductor operculi; do, dilator operculi; hh, hyohyoideus; hp, hypaxial muscles; ih, interhyoideus; ima, intramandibular anterior; imp, intramandibular posterior; io, inferior oblique; ir, inferior rectus; lap, levator arcus palatini; lr, lateral rectus; mr, medial rectus; pf, pectoral fin; sh, sternohyoideus; so, superior oblique; tv, transversus ventralis. A,C,F,G,H: Lateral view; B: dorsal view; D,E,I,J,K: ventral view. Scale bars = 80 μm in A, 60 μm in B-E, 50 μm in F-J.
Antibody Labeling Details
No data available
Phenotype Details
No data available
Acknowledgments:
This image is the copyrighted work of the attributed author or publisher, and ZFIN has permission only to display this image to its users. Additional permissions should be obtained from the applicable author or publisher of the image. Full text @ Dev. Dyn.