ZFIN ID: ZDB-FIG-050323-29
PHENOTYPE:
| | |
| --- | --- |
| Fish: | |
| Knockdown Reagents: | |
| Observed In: | |
| Stage: | Prim-5 |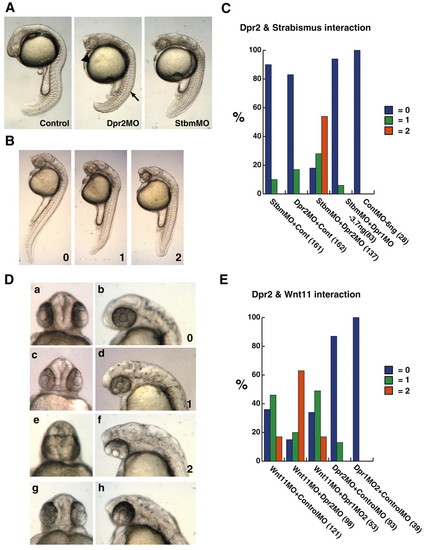 Fig. 5 dpr2 morphants phenocopy strabismus/trilobite (stbm) morphants, and functionally interact with stbm and wnt11/silberblick. (A) dpr2 morphants (middle-injected with 7.5 ng dpr2 MO) phenocopy stbm morphants (right-injected with 3 ng). Arrow indicates flattened, non-chevron-shaped somite. Arrowhead indicates narrowed eyes. (B) Scoring of embryos that were co-injected with suboptimal doses of stbm and dpr2 MOs. 0, wild type; 1, moderate CE defects; 2, severe CE defects. (C) Percentage of embryos injected with MOs exhibiting phenotype. (D) Scoring of cyclopia index of embryos co-injected with dpr2 MO and wnt11 MO (a-f). dpr2 MO (normal dose, g,h). 0, wild type; 1, narrowing of the eyes; 2, fusion of the lens. (E) Percentage of embryos injected displaying respective phenotypes. Suboptimal (hypomorphic) dose of dpr2 MO is 3 ng, stbm MO is 0.4 ng and wnt11 MO is 1.5 ng. All injections were balanced with control MO. The numbers in brackets indicate the numbers of embryos used.
Gene Expression Details
No data available
Antibody Labeling Details
No data available
Phenotype Details
| Fish | Conditions | Stage | Phenotype |
| --- | --- | --- | --- |
| WT + MO1-dact2 | standard conditions | Prim-5 | convergent extension involved in axis elongation disrupted, abnormal |
| | | Prim-5 | eye decreased distance eye, abnormal |
| | | Prim-5 | eye decreased width, abnormal |
| | | Prim-5 | eye mislocalised anteriorly, abnormal |
| | | Prim-5 | somite flat, abnormal |
| | | Prim-5 | whole organism decreased length, abnormal |
| WT + MO1-dact2 + MO1-vangl2 | standard conditions | Prim-5 | convergent extension involved in axis elongation disrupted, abnormal |
| | | Prim-5 | eye decreased distance eye, abnormal |
| | | Prim-5 | eye decreased width, abnormal |
| | | Prim-5 | somite flat, abnormal |
| | | Prim-5 | whole organism decreased length, abnormal |
| WT + MO1-dact2 + MO1-wnt11f2 | standard conditions | Prim-5 | convergent extension involved in axis elongation disrupted, abnormal |
| | | Prim-5 | eye fused with eye, abnormal |
| WT + MO1-vangl2 | standard conditions | Prim-5 | convergent extension involved in axis elongation disrupted, abnormal |
| | | Prim-5 | eye decreased distance eye, abnormal |
| | | Prim-5 | eye decreased width, abnormal |
| | | Prim-5 | somite flat, abnormal |
| | | Prim-5 | whole organism decreased length, abnormal |
| WT + MO1-wnt11 | standard conditions | Prim-5 | eye fused with eye, abnormal |
Acknowledgments:
ZFIN wishes to thank the journal Development (Cambridge, England) for permission to reproduce figures from this article. Please note that this material may be protected by copyright. Full text @ Development