ZFIN ID: ZDB-FIG-210316-48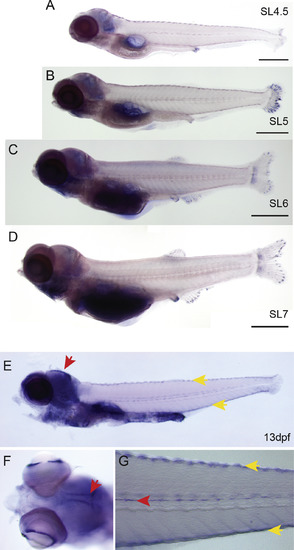 Fig. 10 In situ hybridization of adamts9 (A–D) Lightly-stained staged series from WT fish showing adamts9 expression in the head, cloaca, and at the tips of growing fins rays. (E–G) Extended staining at 13 dpf highlights specific adamts9 expression in the head in bilateral strips in the brain (red arrows; E, F), staining of the melanocytes (yellow arrows), in the ciliated marginal zone of the eyes (F) and in the lateral line (G).
Antibody Labeling Details
No data available
Phenotype Details
No data available
Acknowledgments:
ZFIN wishes to thank the journal Developmental Biology for permission to reproduce figures from this article. Please note that this material may be protected by copyright.

Reprinted from Developmental Biology, 471, Gray, R.S., Gonzalez, R., Ackerman, S.D., Minowa, R., Griest, J.F., Bayrak, M.N., Troutwine, B., Canter, S., Monk, K.R., Sepich, D.S., Solnica-Krezel, L., Postembryonic screen for mutations affecting spine development in zebrafish, 18-33, Copyright (2020) with permission from Elsevier. Full text @ Dev. Biol.