ZFIN ID: ZDB-FIG-200318-8
EXPRESSION / LABELING:
| | |
| --- | --- |
| Gene: | |
| Fish: | |
| Anatomical Terms: | |
| Stage: | Day 5 |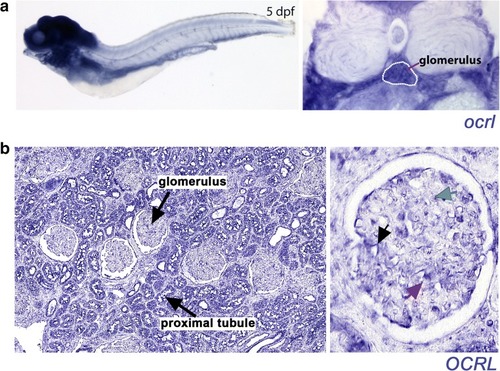 Fig. 2
In situ hybridisation detects OCRL expression in the glomeruli of zebrafish and adult human kidney tissue. a Top panels show OCRL expression in a whole-mount zebrafish embryo (left panel, lateral view, anterior to the left) and in transverse section through the glomerulus (right panel, highlighted with white dotted outline) at 5 days post fertilisation (dpf). b In situ hybridisation of normal adult human kidney tissue showing OCRL expression within the glomerulus. The left panel shows a low magnification image with glomeruli and proximal tubules labelled. The right panel shows a close-up view of the glomerulus with OCRL expression labelled in podocytes (black arrow), mesangial cells (green arrow) and endothelial cells (red arrow)
Antibody Labeling Details
No data available
Phenotype Details
No data available
Acknowledgments:
ZFIN wishes to thank the journal Pediatric nephrology (Berlin, Germany) for permission to reproduce figures from this article. Please note that this material may be protected by copyright. Full text @ Pediatr. Nephrol.