ZFIN ID: ZDB-FIG-191230-30
EXPRESSION / LABELING:
| | |
| --- | --- |
| Gene: | |
| Fish: | |
| Anatomical Terms: | |
| Stage: | Adult |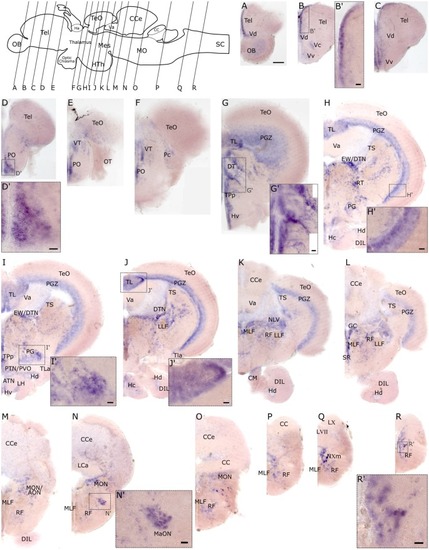 Figure 7
RNA in situ hybridization of slc2a3a in the adult brain. Pictures (A–R) show cross sections of an adult zebrafish brain (80 μm) from anterior to posterior as indicated in the scheme. (B'–R') are high magnifications of boxed areas in (B–R). Detailed descriptions can be found in the text, for abbreviations see Table 1. Scale bar in (A), 100 μm and pertains to (A–R); scale bars in (B'–R'), 20 μm.
Antibody Labeling Details
No data available
Phenotype Details
No data available
Acknowledgments:
ZFIN wishes to thank the journal Frontiers in molecular neuroscience for permission to reproduce figures from this article. Please note that this material may be protected by copyright. Full text @ Front. Mol. Neurosci.