ZFIN ID: ZDB-FIG-190723-930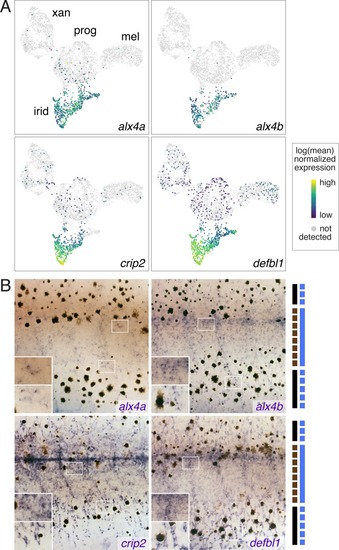 Figure 3—figure supplement 3.
(A) UMAP plots of pigment cells colored by expression of iridophore cluster-specific genes (alx4a, alx4b, crip2, defbl1). (B) Whole-mount in situ hybridization of genes in A reveals patterns corresponding to previously described iridophore markers and locations (Lang et al., 2009; Patterson and Parichy, 2013; Spiewak et al., 2018). Insets, higher magnification views of blue-stained iridophores in the prospective interstripe (upper) and within or near prospective stripe (lower). Bars at right indicate cell positions relative to final pattern features: solid black, melanophores in prospective stripe regions; dashed black, melanophores in prospective interstripe; solid blue, dense iridophores of interstripe; dashed blue, sparse iridophores of stripe.
Antibody Labeling Details
No data available
Phenotype Details
No data available
Acknowledgments:
ZFIN wishes to thank the journal eLIFE for permission to reproduce figures from this article. Please note that this material may be protected by copyright. Full text @ Elife