ZFIN ID: ZDB-FIG-190625-9
EXPRESSION / LABELING:
| | |
| --- | --- |
| Genes: | |
| Fish: | |
| Anatomical Terms: | |
| Stage: | Day 4 |
PHENOTYPE:
| | |
| --- | --- |
| Fish: | |
| Observed In: | |
| Stage: | Day 4 |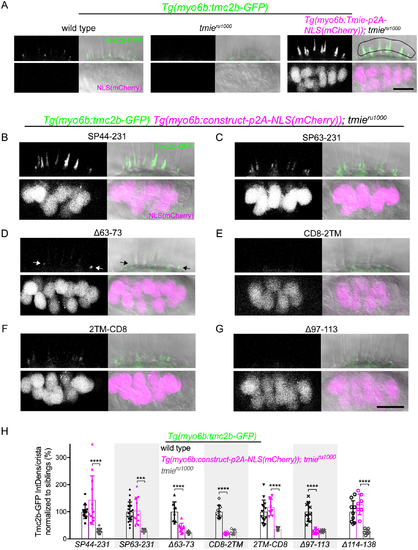 Fig. 8
Confocal images are maximum projections of representative inner-ear lateral cristae collected from 4 dpf larvae. Upper panels show the bundle region, with all larvae stably expressing transgenic Tmc2b-GFP (green). Lower panels show the soma region, with some larvae expressing transgenic Tmie constructs tagged with p2A-NLS(mCherry). Nuclear mCherry (magenta) is a marker for equimolar translation of the indicated Tmie construct. Two tmie construct lines contained stable transgene insertions (SP44-231, CD8-2TM), whereas F1 larvae were used for the Δ63–73, Δ97–113, and Δ114–138 constructs; for the SP63-231 construct, we used a mix of larvae with stable insertions or F1 offspring. (A) Sibling wild type, tmieru1000, and tmieru1000 expressing transgenic Tmie. For the quantification in H, Tmc2b-GFP fluorescence was measured within the ROI (right panel, black line). (B-G) Images of lateral cristae from tmieru1000 larvae expressing individual tmie constructs tagged with p2A-NLS(mCherry), as labeled. The arrows in D point to Tmc2b-GFP in immature hair bundles. (H) Plot of the integrated density of Tmc2b-GFP fluorescence in the ROI, comparing tmieru1000 larvae expressing a tmie construct (magenta) to wild type (black) and tmieru1000 (gray) siblings not expressing tmie construct. We normalized values to the average of wild type siblings for each construct. Significance for SP44-231, SP63-231, and 2TM-CD8 was determined by the Kruskal-Wallis test, for all other tmie constructs by one-way ANOVA, n ≥ 6, ***p < 0.001, ****p < 0.0001. Scale bars are 10μm.
Antibody Labeling Details
No data available
Acknowledgments:
ZFIN wishes to thank the journal PLoS Genetics for permission to reproduce figures from this article. Please note that this material may be protected by copyright. Full text @ PLoS Genet.