ZFIN ID: ZDB-FIG-180709-14
EXPRESSION / LABELING:
| | |
| --- | --- |
| Antibody: | |
| Fish: | |
| Knockdown Reagents: | |
| Anatomical Terms: | |
| Stage: | Prim-5 |
PHENOTYPE:
| | |
| --- | --- |
| Fish: | |
| Knockdown Reagents: | |
| Observed In: | |
| Stage: | Prim-5 |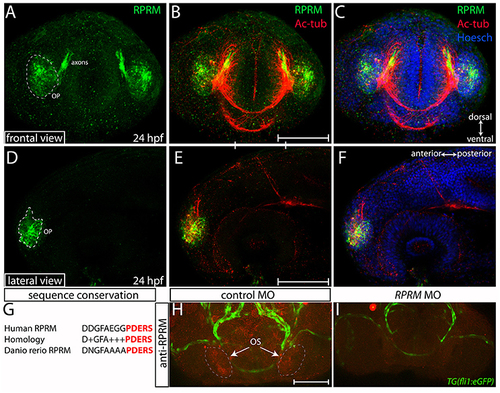 Fig. 3
Expression of RPRM protein in the zebrafish olfactory system. RPRM protein localization was examined by immunofluorescence (IF) in wild-type embryos. At 24 h post-fertilization (hpf). (A–C) Frontal and (D–F) lateral views with dorsal to the top and ventral to the bottom (double arrows in C). (A,D) RPRM is expressed in the OP. The OP give rise to primary sensory neurons, and support basal cells of the OE. (B,E) Overlapped expression of RPRM with acetylated tubulin (Ac-tub) in the axons projecting to the presumptive olfactory bulb (OB) in the central nervous system (CNS). (C,F) Nuclei of the head cells are labeled by Hoechst staining. (G) Sequence conservation between human immunogen and zebrafish RPRM proteins. (H,I) RPRM protein expression is effectively blocked by antisense oligonucleotide MOs. (H,I) Frontal views of the head region in control-MO and RPRM MO-injected embryos by double immunofluorescence confocal microscopy at 48 hpf (with antibodies against RPRM and GFP). RPRM antibody labeled the olfactory system (OS, in red) in (H) MO-control injected embryos, but not in (I) RPRM MO-injected embryos. Scale bars in (B,E,H): 100 μm.
Gene Expression Details
No data available
Antibody Labeling Details
Acknowledgments:
ZFIN wishes to thank the journal Frontiers in Neuroanatomy for permission to reproduce figures from this article. Please note that this material may be protected by copyright. Full text @ Front. Neuroanat.