ZFIN ID: ZDB-FIG-170914-26
PHENOTYPE:
| | |
| --- | --- |
| Fish: | |
| Knockdown Reagents: | |
| Observed In: | |
| Stage: | 90%-epiboly |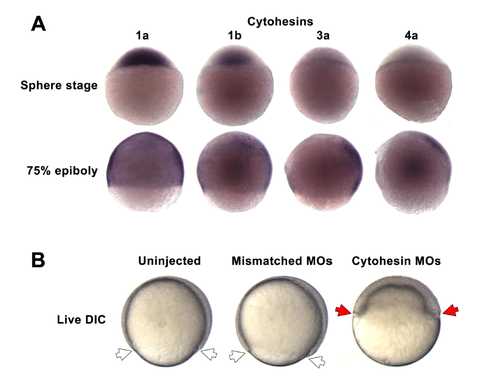 Fig. S4
Expression and perturbation of zebrafish cytohesin genes (Related to Figure 5). (A) In situ hybridization detects the expression of four cytohesin genes (1a, 1b, 3a and 4a) in the blastoderm during epiboly. Each was undetectable in the yolk (base of each embryo). These data show that the cytohesins targeted by the morpholino cocktail are normally expressed in the blastoderm, the tissue disrupted by the morpholino cocktail (Figure 5A-D). (B) The cytohesin morpholino cocktail (targeting cytohesins 1a, 1b, 3a and 4a) consistently produced a severe delay in epiboly not observed in embryos injected with the mismatch morpholino cocktail nor in uninjected embryos (seen in three separate experiments; 20-30 embryos were injected for each cocktail in each experiment). Controls for data shown in Figure 5A-D.
Antibody Labeling Details
No data available
Acknowledgments:
ZFIN wishes to thank the journal Current biology : CB for permission to reproduce figures from this article. Please note that this material may be protected by copyright. Full text @ Curr. Biol.