ZFIN ID: ZDB-FIG-170912-35
Fu et al., 2017
- Competitive binding between Seryl-tRNA synthetase/YY1 complex and NFKB1 at the distal segment results in differential regulation of human vegfa promoter activity during angiogenesis. Nucleic acids research 45:2423-2437
Full text @ Nucleic Acids Res.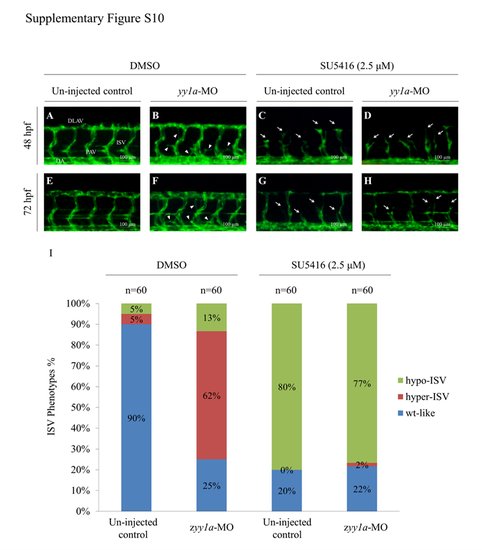 Fig. S10
SerRS/YY1 complex affects angiogenesis in zebrafish embryos through the VEGFA pathway. ISV angiogenesis of zebrafish embryos from transgenic line Tg(fli1:EGFP)y1 was observed under fluorescence microscopy at 48-72 hpf after knockdown of YY1, treatment of VEGF inhibitor, and knockdown of YY1 plus treatment of VEGF inhibitor. Blood vessel development in un-injected control embryos at (A) 48 hpf and (E) 72 hpf, zyy1a-MO(4 ng)-injected embryos at (B) 48 hpf and (F) 72 hpf, VEGF inhibitor SU5416 (2.5 μM)-treated embryos at (C) 48 hpf and (G) 72 hpf, and zyy1a-MO-injected embryos combined with VEGF inhibitor at (D) 48 hpf and (H) 72 hpf was examined. Three degrees of ISV angiogenesis in embryos were categorized: wild-type-like (wt-like), hypo-phenotype (white arrowheads), and hyper-phenotype (white arrows). (I) The occurrence percentages of three degrees of ISV phenotypes among 60 examined embryos in each group, as indicated, were calculated. DLAV: dorsal longitudinal anastomotic vessels; PAV: parachordal vessels; DA: dorsal aorta; ISV: intersegmental vessels. Scale bar: 100µm.
Gene Expression Details
No data available
Antibody Labeling Details
No data available
Acknowledgments:
ZFIN wishes to thank the journal Nucleic acids research for permission to reproduce figures from this article. Please note that this material may be protected by copyright. Full text @ Nucleic Acids Res.