ZFIN ID: ZDB-FIG-170224-1
Dieris et al., 2017
- A single identified glomerulus in the zebrafish olfactory bulb carries the high-affinity response to death-associated odor cadaverine. Scientific Reports 7:40892
Full text @ Sci. Rep.
EXPRESSION / LABELING:
| | |
| --- | --- |
| Genes: | |
| Antibodies: | |
| Fish: | |
| Anatomical Terms: | |
| Stage: | Adult |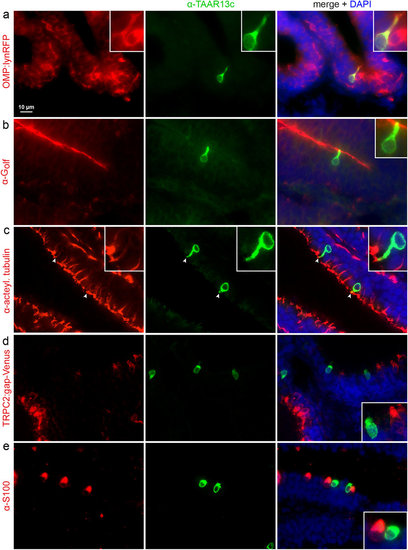 Fig. 1
TAAR13c-positive neurons express ciliated markers, but not those of other OSN populations.
Horizontal sections of adult zebrafish olfactory epithelium were double-labelled with several cell type markers (left column, red fluorescence) and TAAR13 antibody (middle column, green fluorescence). Right column, merged images shown together with DAPI (blue fluorescence). Insets show single cells at higher magnification. (a) TAAR13c-positive cells are also positive for OMP in the OMP:lynRFP transgenic line. (b) The dendritic knob of TAAR13C-positive neurons is also labelled by Golf antibody, as seen by the yellow color. (c) The dendritic knob of TAAR13c-positive neurons is labelled with acetylated tubulin antibody (arrowheads). (d) No overlap is seen between TAAR13c antibody staining and TRPC2 expression as visualized in the TRPC2:gap-Venus transgenic line (here represented as red for consistency reasons). (e) No overlap is seen between TAAR13c and S100 antibody staining.
Antibody Labeling Details
Phenotype Details
No data available
Acknowledgments:
ZFIN wishes to thank the journal Scientific Reports for permission to reproduce figures from this article. Please note that this material may be protected by copyright. Full text @ Sci. Rep.