ZFIN ID: ZDB-FIG-160713-10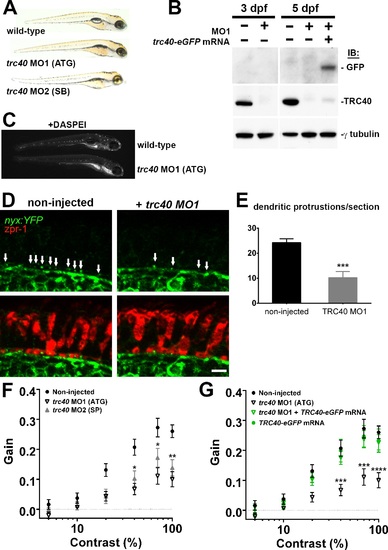 Fig. 5
Morpholino knockdown of trc40 results in wrb-/--like phenotypes. (A) Lateral view of 5 dpf uninjected larvae (top) and trc40 MO1 (translation-blocking, ATG), and trc40 MO2 (splice-blocking, SB) injected larvae. (B) Western blots of 15 µg protein lysates collected from whole larvae at 3 and 5 days after injection with 3 ng trc40 MO1, or MO1 with human trc40-eGFP mRNA. Membranes were immunoblotted with antibodies to detect GFP (top), TRC40 (middle) and γ-tubulin (bottom). (C) Live 5 dpf wild-type and trc40 morphants (MO1) larvae stained with the vital styryl dye DASPEI. (D) Immunohistochemistry of 5 dpf cryosections of Tg(nyx:mYFP) and Tg(nyx:mYFP) + trc40 MO1 morphant larvae using antibodies to detect YFP (green) and red/green double cones (zpr1, red). White arrows indicate bipolar cell dendritic protrusions into cone pedicles. (E) Quantification of dendritic protrusions observed within cone pedicles from cryosections of 5 dpf larvae (n = 11 wild-type, 8 trc40 MO1). (F) Gain of OKR versus log contrast for noninjected wild-type larvae (closed circles), 3 ng trc40 MO1 morphants (open down triangles) and 10 ng trc40 MO2 morphants (filled upward triangles) all at 5 dpf. Significance values indicated for trc40 MO2 morphants only. (G) Gain of OKR versus log contrast for noninjected larvae (filled circles), or larvae injected with 3 ng trc40 MO1 (downward gray triangles), 3 ng trc40 MO1 + trc40-eGFP mRNA (downward green triangles) and human trc40-eGFP mRNA alone (filled green circles). Significant values noted for only for trc40 MO1 morphants. Significance levels are as follows: *P < 0.05. **P < 0.01. ***P < 0.001. ****P < 0.0001. Scale bar: 5 µm.
Antibody Labeling Details
Acknowledgments:
This image is the copyrighted work of the attributed author or publisher, and ZFIN has permission only to display this image to its users. Additional permissions should be obtained from the applicable author or publisher of the image. Full text @ Invest. Ophthalmol. Vis. Sci.