ZFIN ID: ZDB-FIG-160630-12
EXPRESSION / LABELING:
| | |
| --- | --- |
| Antibodies: | |
| Fish: | |
| Anatomical Terms: | |
| Stage: | Day 5 |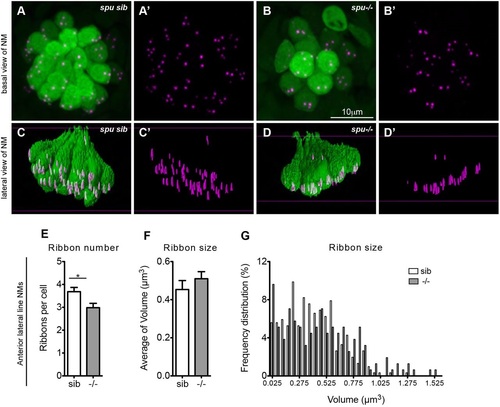 Fig. 7
Lack of mechanotransduction does not affect ribbon localization. (A-B′) sputnik (spu) siblings (sib) and mutants, which have a mutation in cadherin 23 and lack tip links in their hair bundles, were fixed at 5dpf and stained for hair cells (green, anti-parvalbumin antibody) and ribbons (magenta, anti-RibeyeB antibody). (A-B′) Projections of confocal images of anterior lateral line neuromasts (NM) (O2, MI1, MI2, IO4 or M2) in siblings and mutants. (C-D′) Lateral view of surface renderings of images in A-B′ generated by Huygens software. spu mutants had one less ribbon/cell (E), but ribbon size (F,G) and their localization (D′) was very similar to wild-type larvae. Ribbon size and number were obtained from the surface renderings of the neuromasts (see Materials and Methods). Statistical analysis of ribbons (unpaired two tailed t-test) was performed on averages of averages: average of ribbons, hair cells or neuromasts in a total of nine neuromasts (three neuromasts in three different larvae). Anterior lateral line neuromasts had an average of six hair cells per neuromast in spu mutant larvae and an average of 10 hair cells per neuromast in spu sibling larvae. *P=0.02 (unpaired two-tailed t-test). The average ribbon size was not statistically different between mutants and their siblings, although the size as assessed by fluorescence microscopy is semi-quantitative. Results are mean±s.e.m.
Gene Expression Details
No data available
Antibody Labeling Details
Phenotype Details
No data available
Acknowledgments:
ZFIN wishes to thank the journal Journal of Cell Science for permission to reproduce figures from this article. Please note that this material may be protected by copyright. Full text @ J. Cell Sci.