ZFIN ID: ZDB-FIG-150922-5
Li et al., 2015
- Integrative Analysis of Circadian Transcriptome and Metabolic Network Reveals the Role of De Novo Purine Synthesis in Circadian Control of Cell Cycle. PLoS Computational Biology 11:e1004086
Full text @ PLoS Comput. Biol.
PHENOTYPE:
Fish:
Knockdown Reagents:
Observed In:
Stage Range:

Prim-15

to

Day 5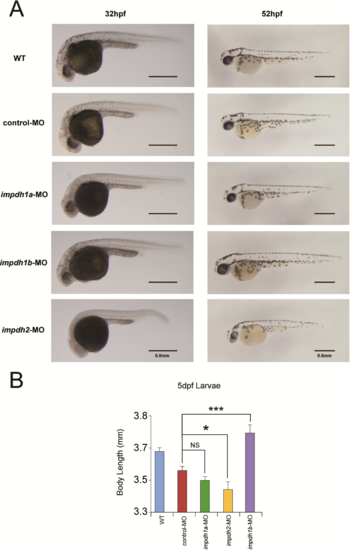 Fig. S4
The phenotypes of WT, control morphant, and three impdh morphants at early stages of development.
(A) impdh1b morphant development was faster than WT or control larvae while the impdh2 morphant grew slower at 32 hpf and 52 hpf. (B) The body lengths were calculated in 5 dpf larvae. impdh1b knock-down promotes larval zebrafish development significantly. Error bars represent the standard error of mean (SEM) among independent replicates. * p<0.05; ***P<0.001, unpaired two-tailed Student's t-test, scale bars, 500μm.
Gene Expression Details
No data available
Antibody Labeling Details
No data available
Acknowledgments:
ZFIN wishes to thank the journal PLoS Computational Biology for permission to reproduce figures from this article. Please note that this material may be protected by copyright. Full text @ PLoS Comput. Biol.