ZFIN ID: ZDB-FIG-150504-27
Your Input Welcome
Thank you for submitting comments. Your input has been emailed to ZFIN curators who may contact you if additional information is required.
Oops. Something went wrong. Please try again later.
Quan et al., 2015
- Comparative Distribution and In Vitro Activities of the Urotensin II-Related Peptides URP1 and URP2 in Zebrafish: Evidence for Their Colocalization in Spinal Cerebrospinal Fluid-Contacting Neurons. PLoS One 10:e0119290
Full text @ PLoS One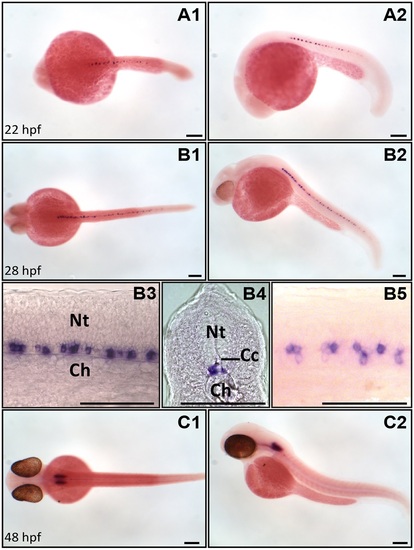 Fig. 1 urp1 mRNA is restricted to the ventral spinal cord and hindbrain at early stages of development in zebrafish.
Expression of urp1 revealed by ISH (BM purple, violet) on nacre embryos at 22 (A), 28 (B) and 48 hpf (C). At 22 hpf and 28 hpf, urp1+ cells occur only in the spinal cord at the level of the lateral floor plate (A, B), while from 48 hpf, they are mainly visible in the hindbrain (C). A1, B1, B5 and C1, dorsal views; A2, B2, B3 and C2, lateral views with dorsal up; B4, coronal section with dorsal up; all embryos oriented anterior left; B3 and B5 are details at higher magnifications of B2 and B1, respectively. Ch, chord; Cc, central canal; Nt, neural tube; Scale bar: 100 µm.
Antibody Labeling Details
No data available
Phenotype Details
No data available
Acknowledgments:
ZFIN wishes to thank the journal PLoS One for permission to reproduce figures from this article. Please note that this material may be protected by copyright. Full text @ PLoS One