ZFIN ID: ZDB-FIG-140228-35
Schilling et al., 1996
- The chinless mutation and neural crest cell interactions in zebrafish jaw development. Development (Cambridge, England) 122:1417-1426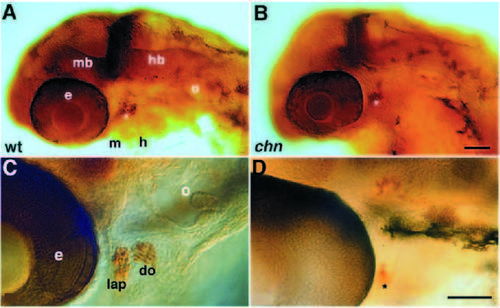 Fig. 4 Jaw muscle precursors are specified but do not differentiate in chn. (A,C) Wild-type embryos, (B,D) chn mutant embryos. Whole mounted embryos labelled with anti-Eng antibody were photographed with Nomarski optics. (A) 36 hour, lateral view. In wild type, precursors of two mandibular muscles, the levator arcus palatini and dilator operculi, are present in the mandibular arch and express Eng proteins in their nuclei (Hatta et al., 1990). (B) Cells labelled in a similar location are present in chn mutants (asterisk). (C) 72 hour. At late hatching the Eng-expressing cells have elongated and striated in the wild type. (D) In chn the cells neither elongate nor striate to form contractile muscle fibers. Eng is also expressed in the nervous system at the junction between midbrain and hindbrain in chn mutants as well as wild type. Abbreviations: do, dilator operculi; e, eye; h, hyoid arch; hb, hindbrain; lap, levator arcus palatini; m, mandibular arch; mb, midbrain; o, otic vesicle. Scale bar, 200 μm.
Gene Expression Details
No data available
Antibody Labeling Details
Acknowledgments:
ZFIN wishes to thank the journal Development (Cambridge, England) for permission to reproduce figures from this article. Please note that this material may be protected by copyright.