ZFIN ID: ZDB-FIG-131218-43
Your Input Welcome
Thank you for submitting comments. Your input has been emailed to ZFIN curators who may contact you if additional information is required.
Oops. Something went wrong. Please try again later.
EXPRESSION / LABELING:
| | |
| --- | --- |
| Antibodies: | |
| Fish: | |
| Anatomical Terms: | |
| Stage: | Long-pec |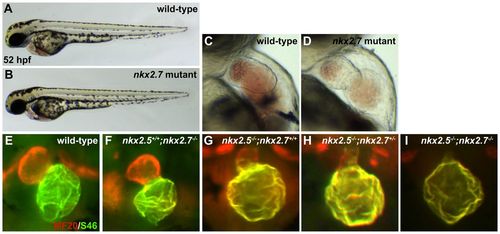 Fig. 4 nkx2.5-/-;nkx2.7-/- double mutant demonstrates the synergistic requirement for Nkx genes in maintenance of ventricular identity. (A,B) Lateral views of live embryos, anterior to the left, at 52 hpf. General embryonic morphology appears similar in wild-type (A) and nkx2.7 mutant (B) embryos. (C,D) Lateral views of live embryos, anterior to the top, at 52 hpf. The nkx2.7 mutant heart (D) exhibits subtle defects in ventricular and atrial morphology. (E-I) Frontal views, anterior to the top, of MF20/S46 immunofluorescence, which distinguishes ventricular myocardium (red) from atrial myocardium (yellow), at 52 hpf. In comparison to wild-type embryos (E), nkx2.7 mutants (F) exhibit subtle abnormalities in chamber size and shape whereas nkx2.5 mutants (G) demonstrate an impressive size discrepancy between the ventricular and atrial chambers. (H) In the nkx2.5 mutant, loss of a single allele of nkx2.7 leads to increased localization of Amhc (S46, yellow) within the ventricle. (I) Exacerbation of the ventricular deficiency is evident in the nkx2.5-/-;nkx2.7-/- mutants, and Amhc is present throughout the entire cardiac structure.
Gene Expression Details
No data available
Antibody Labeling Details
Acknowledgments:
ZFIN wishes to thank the journal Development (Cambridge, England) for permission to reproduce figures from this article. Please note that this material may be protected by copyright. Full text @ Development