ZFIN ID: ZDB-FIG-130905-18
Filipek-Górniok et al., 2013
- Expression of chondroitin/dermatan sulfate glycosyltransferases during early zebrafish development. Developmental dynamics : an official publication of the American Association of Anatomists 242(8):964-75
Full text @ Dev. Dyn.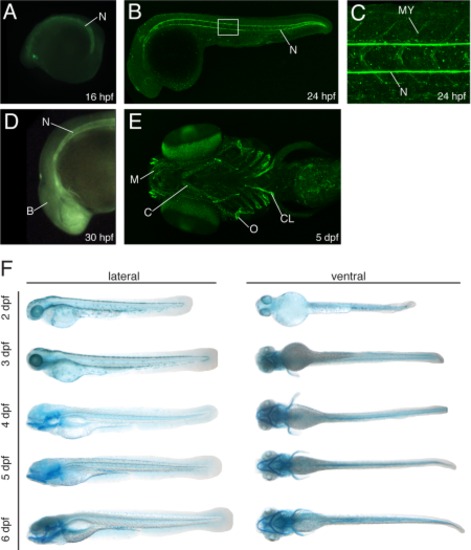 Fig. 8
The notochord and cartilage structures are sites of CS/DS accumulation. A–D: Lateral views of zebrafish embryos and larvae showing CS deposition as detected with the CS-56 antibody. The notochord is weakly stained at 16 hpf (A) and more prominent CS deposition is seen at 24 hpf and 30 hpf (B–D). CS deposition in the myoseptum is shown in C, which is a magnification of the boxed area in B. Brain tissues are weakly stained at 30 hpf (D). E: CS is present in the pharyngeal cartilages (the Meckel′s cartilage and the ceratohyal) and in dermal bones (the operculum and the cleithrum) at 5 dpf. F: Ventral and lateral views of a zebrafish embryo stained with Alcian blue to detect CS/DS at 2–6 dpf. B, brain; C, ceratohyal; CL, cleithrum; M Meckel′s cartilage; MY, myoseptum; N, notochord; O, operculum.
Gene Expression Details
No data available
Antibody Labeling Details
Phenotype Details
No data available
Acknowledgments:
ZFIN wishes to thank the journal Developmental dynamics : an official publication of the American Association of Anatomists for permission to reproduce figures from this article. Please note that this material may be protected by copyright. Full text @ Dev. Dyn.