ZFIN ID: ZDB-FIG-130815-13
Patterson et al., 2013
- Interactions with Iridophores and the Tissue Environment Required for Patterning Melanophores and Xanthophores during Zebrafish Adult Pigment Stripe Formation. PLoS Genetics 9(5):e1003561
Full text @ PLoS Genet.
PHENOTYPE:
| | |
| --- | --- |
| Fish: | |
| Observed In: | |
| Stage: | Adult |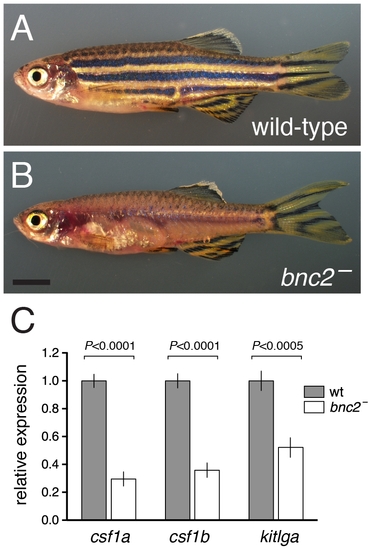 Fig. 1
bnc2 mutants exhibited reduced expression of melanogenic and xanthogenic factors.
(A) Wild-type. (B) Homozygous bnc2 mutant. (C) Quantitative RT-PCR for csf1a, csf1b, and kitlga revealed significantly reduced transcript abundances in skins isolated from 8.5 SSL bnc2 mutants as compared to stage-matched, wild-type bnc2/+ siblings. Shown are means±SE. Values are derived from 3 replicate experiments each consisting of 3 biological replicates for each genotype (n = 9 larvae total per genotype). Scale bar: in (B) 3 mm for (A,B).
Gene Expression Details
No data available
Antibody Labeling Details
No data available
Acknowledgments:
ZFIN wishes to thank the journal PLoS Genetics for permission to reproduce figures from this article. Please note that this material may be protected by copyright. Full text @ PLoS Genet.