ZFIN ID: ZDB-FIG-130807-24
Your Input Welcome
Thank you for submitting comments. Your input has been emailed to ZFIN curators who may contact you if additional information is required.
Oops. Something went wrong. Please try again later.
EXPRESSION / LABELING:
| | |
| --- | --- |
| Gene: | |
| Fish: | |
| Knockdown Reagents: | |
| Anatomical Term: | |
| Stage: | Prim-15 |
PHENOTYPE:
| | |
| --- | --- |
| Fish: | |
| Knockdown Reagents: | |
| Observed In: | |
| Stage: | Prim-15 |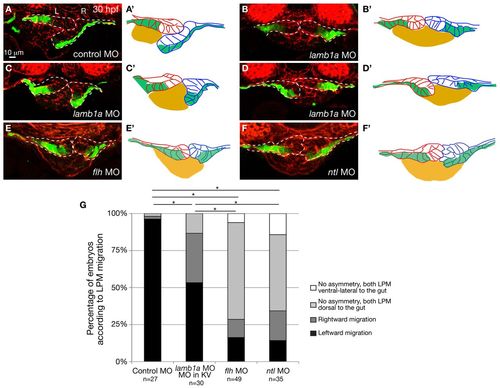 Fig. 6 lamb1a knock-down in the KV as well as global knock-down of flh and ntl randomized the direction of LPM migration without altering epithelial polarity or composition of the LPM. (A-F) Expression of Tg(hand2:EGFP) in the LPM of embryos injected with control (A) or lamb1a (B-D) MO into the KV at 3 hpf, or flh MO (E) or ntl MO (F) at the one-cell stage. Transverse sections, dorsal towards the top. Scale bar: 10 μm. Dashed lines outline the LPM. L, left; R, right. (A′-F′) The LPM and gut shown in A-D. Gut (yellow), left LPM (red), right LPM (blue), Tg(hand2:EGFP)-expressing cells (green). (G) Proportions of control, lamb1a, flh and ntl MO-injected embryos exhibiting different directions of LPM migration. Effect of lamb1a knockdown in the KV on LPM migration is statistically significant, when compared with control, flh and ntl morphants (*P<0.001). The distribution of LPM migration phenotype is similar in flh and ntl morphants (P=0.794), but significantly different in embryos injected with lamb1a MO in the KV or with the control MO.
Antibody Labeling Details
No data available
Phenotype Details
| Fish | Conditions | Stage | Phenotype |
| --- | --- | --- | --- |
| pd24Tg + MO1-tbxta | standard conditions | Prim-15 | determination of digestive tract left/right asymmetry decreased process quality, abnormal |
| | | Prim-15 | lateral mesoderm morphogenesis decreased process quality, abnormal |
| | | Prim-15 | lateral plate mesoderm bilateral symmetry, abnormal |
| | | Prim-15 | lateral plate mesoderm mislocalised, abnormal |
| pd24Tg + MO2-lamb1a | standard conditions | Prim-15 | determination of digestive tract left/right asymmetry decreased process quality, abnormal |
| | | Prim-15 | lateral mesoderm morphogenesis decreased process quality, abnormal |
| | | Prim-15 | lateral plate mesoderm bilateral symmetry, abnormal |
| | | Prim-15 | lateral plate mesoderm mislocalised, abnormal |
| pd24Tg + MO3-noto | standard conditions | Prim-15 | determination of digestive tract left/right asymmetry decreased process quality, abnormal |
| | | Prim-15 | lateral mesoderm morphogenesis decreased process quality, abnormal |
| | | Prim-15 | lateral plate mesoderm bilateral symmetry, abnormal |
| | | Prim-15 | lateral plate mesoderm mislocalised, abnormal |
Acknowledgments:
ZFIN wishes to thank the journal Development (Cambridge, England) for permission to reproduce figures from this article. Please note that this material may be protected by copyright. Full text @ Development