ZFIN ID: ZDB-FIG-130514-3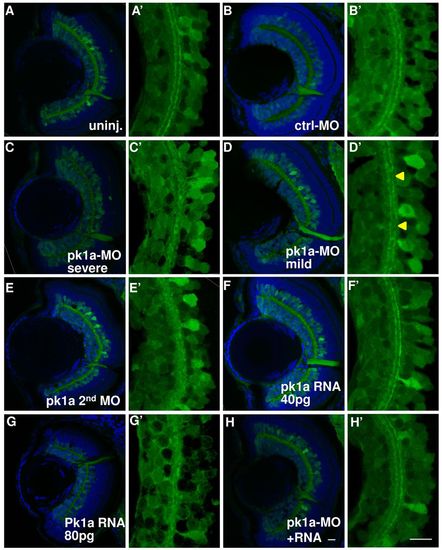 Fig. 4 pk1a knockdown induces inner plexiform layer defects. (A–H′) Sections at 76–78 hpf in the HuC:gfp transgenic line. Green channel, GFP; blue channel, To-Pro3 nuclear counter-staining. (A–H) Whole eye visualized at 63×. Representative sections from uninjected embryos (A) and from embryos injected with control-MO (B); pk1a-MO, showing severe IPL defects (C); pk1a-MO, showing mild IPL defects (D); a second pk1a-MO (E); 40 pg pk1a RNA (F); 80 pg pk1a RNA (G); pk1a-MO plus 40 pg pk1a RNA (H). (A′–H′) Digital 3× zoom of the white boxed areas in A–H, showing the green channel only. In the uninjected (A′) and control-MO-injected embryos (B′), there are two clearly stratified tracks. pk1a morphants exhibit either loss of the organization (C′) or discontinuous tracks (arrowheads in D′). A second pk1a-MO also induced similar IPL defects (E′). Although a low dose of pk1a RNA injection does not show a defect (F′), a higher dose does (G′). The defects can be partially suppressed by a low dose pk1a RNA co-expression (H′). Scale bar: 10 μm.
Gene Expression Details
No data available
Antibody Labeling Details
No data available
Acknowledgments:
This image is the copyrighted work of the attributed author or publisher, and ZFIN has permission only to display this image to its users. Additional permissions should be obtained from the applicable author or publisher of the image. Full text @ Dis. Model. Mech.