ZFIN ID: ZDB-FIG-130514-3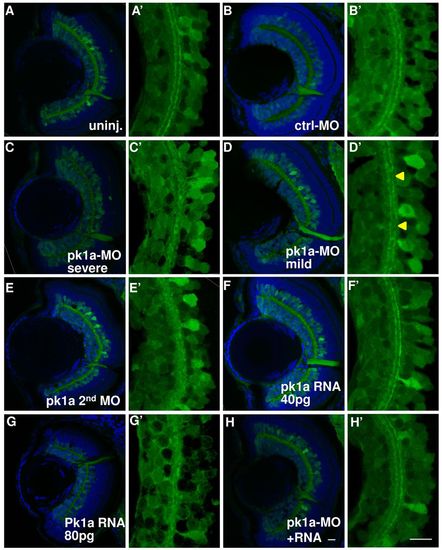 Fig. 4 pk1a knockdown induces inner plexiform layer defects. (A–H′) Sections at 76–78 hpf in the HuC:gfp transgenic line. Green channel, GFP; blue channel, To-Pro3 nuclear counter-staining. (A–H) Whole eye visualized at 63×. Representative sections from uninjected embryos (A) and from embryos injected with control-MO (B); pk1a-MO, showing severe IPL defects (C); pk1a-MO, showing mild IPL defects (D); a second pk1a-MO (E); 40 pg pk1a RNA (F); 80 pg pk1a RNA (G); pk1a-MO plus 40 pg pk1a RNA (H). (A′–H′) Digital 3× zoom of the white boxed areas in A–H, showing the green channel only. In the uninjected (A′) and control-MO-injected embryos (B′), there are two clearly stratified tracks. pk1a morphants exhibit either loss of the organization (C′) or discontinuous tracks (arrowheads in D′). A second pk1a-MO also induced similar IPL defects (E′). Although a low dose of pk1a RNA injection does not show a defect (F′), a higher dose does (G′). The defects can be partially suppressed by a low dose pk1a RNA co-expression (H′). Scale bar: 10 μm.
Gene Expression Details
No data available
Antibody Labeling Details
No data available
Acknowledgments:
ZFIN wishes to thank the journal Disease models & mechanisms for permission to reproduce figures from this article. Please note that this material may be protected by copyright. Full text @ Dis. Model. Mech.