ZFIN ID: ZDB-FIG-130318-2
Eisa-Beygi et al., 2013
- The 3-hydroxy-3-methylglutaryl-CoA reductase (HMGCR) pathway regulates developmental cerebral-vascular stability via prenylation-dependent signalling pathway. Developmental Biology 373(2):258-266
Full text @ Dev. Biol.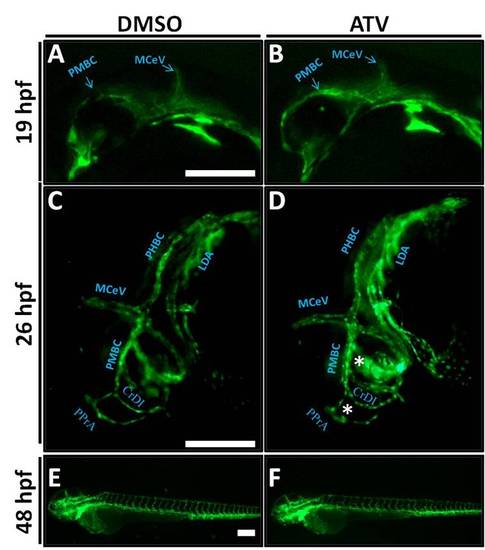 Fig. S2 Embryos with cerebral hemorrhage have normal vascular patterning and no regression. (A-F) Representative photomicrographs of Tg(fli1:EGFP) embryos exposed to DMSO or 0.5 mg/L ATV and imaged at 14 hpf (A, B), 26 hpf (C, D) and 48 hpf (E, F). White asterisks indicate abnormally dilated PPrA and PMBC. Anterior is to the left and dorsal to the top. Scale bars = 200 μm.
Gene Expression Details
No data available
Antibody Labeling Details
No data available
Acknowledgments:
ZFIN wishes to thank the journal Developmental Biology for permission to reproduce figures from this article. Please note that this material may be protected by copyright.

Reprinted from Developmental Biology, 373(2), Eisa-Beygi, S., Hatch, G., Noble, S., Ekker, M., and Moon, T.W., The 3-hydroxy-3-methylglutaryl-CoA reductase (HMGCR) pathway regulates developmental cerebral-vascular stability via prenylation-dependent signalling pathway, 258-266, Copyright (2013) with permission from Elsevier. Full text @ Dev. Biol.