ZFIN ID: ZDB-FIG-130117-42
Your Input Welcome
Thank you for submitting comments. Your input has been emailed to ZFIN curators who may contact you if additional information is required.
Oops. Something went wrong. Please try again later.
EXPRESSION / LABELING:
| | |
| --- | --- |
| Antibodies: | |
| Fish: | |
| Anatomical Terms: | |
| Stage: | Prim-5 |
PHENOTYPE:
| | |
| --- | --- |
| Fish: | |
| Observed In: | |
| Stage: | Prim-5 |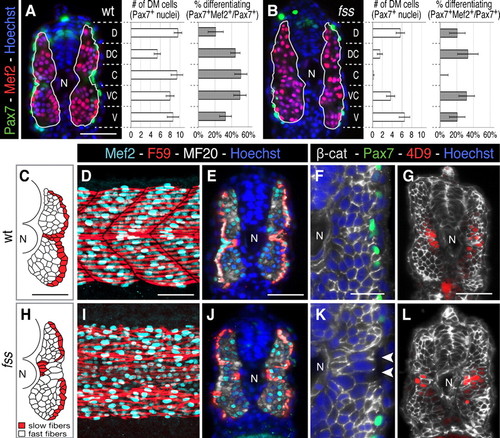 Fig. 3 Premature dermomyotome progenitor differentiation disrupts myotome patterning.
(A,B) Cross-sections and graphs showing dorsal-ventral distribution of dermomyotome (average of Pax7+ cells ± s.e.m.) and % differentiating dermomyotome (Pax7+/Mef2+) in wild type sibling and fss/tbx6 mutant (green, Pax7; red, Mef2; blue, Hoechst 33258). (C–L) Myotome morphology in wild type siblings (D–H) and fss/tbx6 (I–M) at the 24h stage. (C,H) Tracing of fast (white) and slow (red) muscle fibres on representative cross-sections. In fss/tbx6 mutants, the layer of slow fibres is disrupted and large fast muscle fibres are found lateral to the slow fibres in the central myotome. (D,E,I,J) Whole mounts (posterior trunk) and cross-sections labeled with F59 (red, labels slow myosin heavy chain at the 24h stage), Mef2 (aqua) and MF20 (white). (F,G,K,L) β-catenin labeled cross-sections double-labeled for either Pax7 (green, F,G) or 4D9 (red, engrailed, G,L); nuclei labeled with Hoechst. Arrowheads indicate large diameter, lateral fast fibres. N, notochord. Scale bars: 50 μm (A,C–E,G), 25 μm (F). Corresponding images of fss are to the same scale.
Gene Expression Details
No data available
Antibody Labeling Details
Acknowledgments:
ZFIN wishes to thank the journal Biology Open for permission to reproduce figures from this article. Please note that this material may be protected by copyright. Full text @ Biol. Open