ZFIN ID: ZDB-FIG-130109-21
Your Input Welcome
Thank you for submitting comments. Your input has been emailed to ZFIN curators who may contact you if additional information is required.
Oops. Something went wrong. Please try again later.
Lai et al., 2012
- Autotaxin/Lpar3 signaling regulates Kupffer's vesicle formation and left-right asymmetry in zebrafish. Development (Cambridge, England) 139(23):4439-4448
Full text @ Development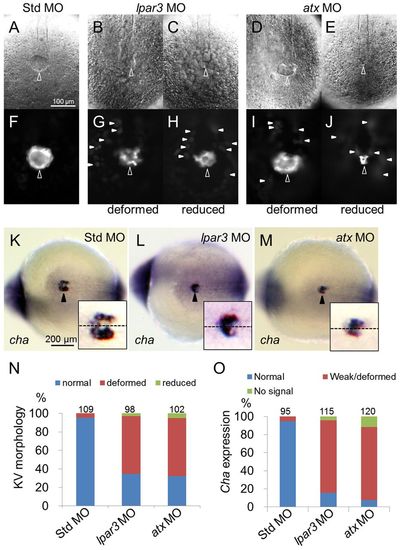 Fig. 3 Kupffer′s vesicle formation is disturbed in both lpar3 and atx morphants. (A-J,N) Tg(sox17:dsRed) zebrafish embryos were injected with MO and the integrity of KV was examined under differential interference contrast (A-E) or epifluorescence (F-J) microscopy. In contrast to Std control MO-injected embryos (A,F), deformed (B,G,D,I) and/or reduced KVs (C,H,E,J) were observed in both lpar3 and atx morphants (open arrowheads). In addition, dispersed dsRed-positive cells (arrowheads) were also observed around KV in both lpar3 and atx morphants. To quantify KV defects, Tg(sox17:dsRed) embryos were used to repeat the above experiments and analyses are shown in N. (K-M,O) Embryos injected with the indicated MO were subjected to WISH against charon (cha, ventral view, bottom right). Arrowheads point to KVs. Magnified KV insets are shown at the lower right of each panel; embryo midlines are indicated by dashed lines. WISH against charon also revealed similar deformed/reduced pattern in lpar3 (L) and atx (M) morphants compared with Std control MO-injected embryos (K). Quantitative analyses are shown in O.
Gene Expression Details
No data available
Antibody Labeling Details
No data available
Acknowledgments:
ZFIN wishes to thank the journal Development (Cambridge, England) for permission to reproduce figures from this article. Please note that this material may be protected by copyright. Full text @ Development