ZFIN ID: ZDB-FIG-121030-13
EXPRESSION / LABELING:
| | |
| --- | --- |
| Gene: | |
| Fish: | |
| Knockdown Reagents: | |
| Anatomical Term: | |
| Stage: | Long-pec |
PHENOTYPE:
| | |
| --- | --- |
| Fish: | |
| Knockdown Reagents: | |
| Observed In: | |
| Stage: | Long-pec |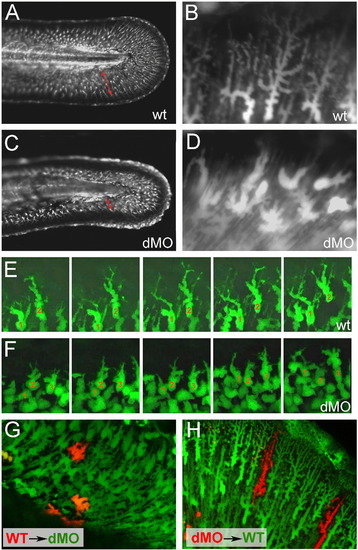 Fig. 4 hmcn2/fbln1 double morphants display non-cell autonomous defects in fin mesenchymal cell migration. All panels show lateral views on the tail of live ET37 transgenic embryos, in which fin mesenchymal cells express GFP. (A–D) Overview (A, C) and magnified view of same embryos (B, D) at 55 hpf. Red arrows in (A, C) indicate the distance between the leading edge of fin mesenchymal cells and the base of the dorsal median fin, which is strongly reduced in the double morphant (C). Note that in the double morphant (C), the apical regions of the fin are collapsed, most likely as a secondary consequence of impaired mesenchymal cell immigration. Magnified views (B, D), showing that in wild-type embryo (B), fin mesenchymal cells have long protrusions that project laterally and apically (distally), whereas in the double morphant (D) cells have a more roundish shape with shorter and thicker protrusions. (E, F) Stills from time-lapse recordings of fin mesenchymal cells of wild-type (E) and double morphant embryo (F) from 35 to 40 hpf; individual cells are marked by numbers. (E) In wild-type, mesenchymal cells make stable protrusions that extend apically, followed by a displacement of the cell body into the same direction. (F) In the double morphant mesenchymal cells do form protrusions, however, protrusions are shorter and less persistent, and often (cell 2), but not always (cell 1), retract without cell body displacement. (G,H) Chimeric embryos at 72 hpf, generated via cell transplantations at early gastrula stage (6 hpf). (G) In double morphant host, wild-type mesenchymal cells (red) show compromised migratory behavior and cell shapes like their double morphant neighbors (green). (H) In wild-type host, double morphant mesenchymal cells (red) display highly arborized cells shapes like their wild-type neighbors (green), and can be found at the leading edge of the ingrowth, pointing to uncompromised migratory behavior.
Antibody Labeling Details
No data available
Acknowledgments:
ZFIN wishes to thank the journal Developmental Biology for permission to reproduce figures from this article. Please note that this material may be protected by copyright.

Reprinted from Developmental Biology, 369(2), Martins Feitosa, N., Zhang, J., Carney, T.J., Metzger, M., Korzh, V., Bloch, W., and Hammerschmidt, M., Hemicentin 2 and Fibulin 1 are required for epidermal-dermal junction formation and fin mesenchymal cell migration during zebrafish development, 235-248, Copyright (2012) with permission from Elsevier. Full text @ Dev. Biol.