ZFIN ID: ZDB-FIG-120508-31
English et al., 2012
- Incomplete splicing, cell division defects, and hematopoietic blockage in
dhx8
mutant zebrafish. Developmental dynamics : an official publication of the American Association of Anatomists 241(5):879-889
Full text @ Dev. Dyn.
PHENOTYPE:
| | |
| --- | --- |
| Fish: | |
| Observed In: | |
| Stage: | Prim-5 |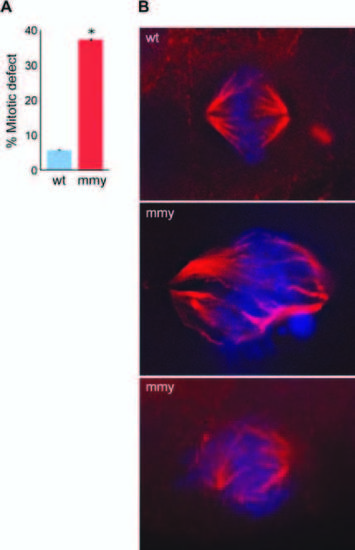 Fig. 6
mmy mutant embryos have mitotic defects. A: Quantification of immunohistochemistry experiment. Ten wild-type and ten mutant embryos were used to count 180 mitotic events (ME) in wild type and 221 ME in mutant embryos. The embryos were sectioned into head and trunk sections and the total number of ME for each embryo counted. Error bars indicate the standard deviation between each experiment. *P = 0.000031 (Student′s t-test). B: Wild-type and mutant embryos were sectioned (10 each), mounted, and subjected to immunohistochemistry using an α-tubulin antibody (red) and counter-stain for DNA with DAPI (blue).
Gene Expression Details
No data available
Antibody Labeling Details
No data available
Acknowledgments:
ZFIN wishes to thank the journal Developmental dynamics : an official publication of the American Association of Anatomists for permission to reproduce figures from this article. Please note that this material may be protected by copyright. Full text @ Dev. Dyn.