ZFIN ID: ZDB-FIG-120508-30
English et al., 2012
- Incomplete splicing, cell division defects, and hematopoietic blockage in
dhx8
mutant zebrafish. Developmental dynamics : an official publication of the American Association of Anatomists 241(5):879-889
Full text @ Dev. Dyn.
PHENOTYPE:
| | |
| --- | --- |
| Fish: | |
| Observed In: | |
| Stage: | Prim-5 |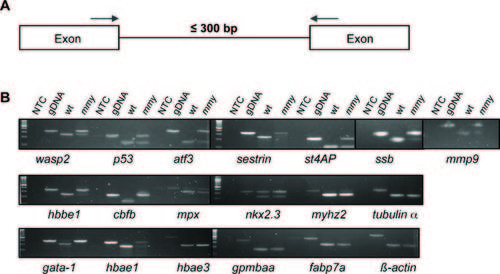 Fig. 5
mmy mutants have a defect in mRNA splicing. A: Schematic of the PCR assay used to assess nuclear splicing. Blue arrows indicate the locations of the forward and reverse primers. B: RT-PCR analysis from 24-hpf wild-type and mmy mutant embryos was performed for the indicated genes (Supp. Table S5). Zebrafish genomic DNA (gDNA) was included to show the sizes of the un-spliced products. NTC, no template control.
Gene Expression Details
No data available
Antibody Labeling Details
No data available
Acknowledgments:
ZFIN wishes to thank the journal Developmental dynamics : an official publication of the American Association of Anatomists for permission to reproduce figures from this article. Please note that this material may be protected by copyright. Full text @ Dev. Dyn.