ZFIN ID: ZDB-FIG-111215-21
PHENOTYPE:
| | |
| --- | --- |
| Fish: | |
| Observed In: | |
| Stage: | Adult |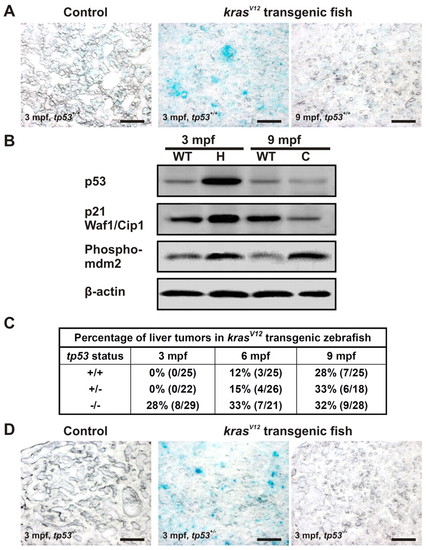 Fig. 6 KrasV12-induced p53-dependent senescence in the pre-neoplastic liver. (A) Oncogenic KrasV12-induced senescence at an early stage of liver tumor development. SA-βgal staining was performed on liver cryosections from 3- and 9-mpf krasV12 transgenic and WT fish (tp53+/+). (B) Western blots of total proteins from liver hyperplasia (H), carcinoma (C) and age-matched WT liver to evaluate the levels of tumor suppressor p53 together with its target, p21 Waf1/Cip1, and its regulator, phospho-MDM2, during tumorigenesis. β-actin, internal control for equal loading. (C) Acceleration of liver tumor onset in homozygous tp53M214K mutant transgenic fish. Percentages of tumors observed from krasV12 transgenic fish with different p53 backgrounds at different time points are shown. (D) Suppression of senescence induced by oncogenic krasV12 in tp53-/- background. SA-βgal staining was performed with four biological replicates in each group. Scale bars: 50 μm.
Gene Expression Details
No data available
Antibody Labeling Details
No data available
Acknowledgments:
ZFIN wishes to thank the journal Disease models & mechanisms for permission to reproduce figures from this article. Please note that this material may be protected by copyright. Full text @ Dis. Model. Mech.