ZFIN ID: ZDB-FIG-101207-6
EXPRESSION / LABELING:
Gene:
Fish:
Anatomical Term:
Stage Range:

Day 4

to

Day 5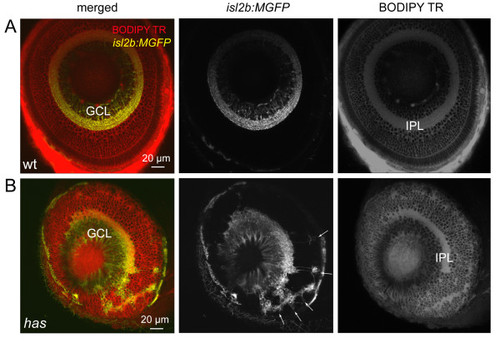 Fig. 5 Some retinal ganglion cells are mislocalized in the has mutant. (A) Normal localization of RGCs to the ganglion cell layer (GCL) in the isl2b:MGFP line. BODIPY Texas Red (TR) labeling clearly reveals the cell body-free inner plexiform layer (IPL). Wt, wild type. (B) Distribution of RGCs in the isl2b:MGFP; has mutant retina. Arrows point to mislocalized RGCs.
Antibody Labeling Details
No data available
Acknowledgments:
ZFIN wishes to thank the journal Neural Development for permission to reproduce figures from this article. Please note that this material may be protected by copyright. Full text @ Neural Dev.