ZFIN ID: ZDB-FIG-101021-33
EXPRESSION / LABELING:
Genes:
Fish:
Anatomical Terms:
Stage Range:

Prim-5

to

Day 5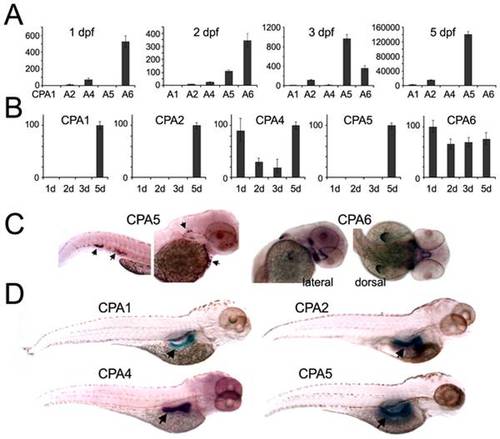 Fig. 3 Temporal and spatial expression of zebrafish CPA genes.
(A, B) qPCR was performed using cDNA prepared from zebrafish at the indicated developmental time points. All values were normalized to β-actin, and are shown in (A) as expression relative to CPA1 mRNA at 2 dpf, or in (B) as expression of each gene relative to its highest level (100%). (C, D) In situ hybridization was used to determine the spatial distribution of CPA mRNA expression. (C) At 2 dpf CPA5 mRNA (arrows) was detected in a mast cell population and CPA6 mRNA was seen in precursor tissues found in the stomodeum, posterior to the eyes, and in the pectoral fin buds. (D) At 4 dpf, mRNA for CPA1, 2, 4, and 5 were expressed in the pancreas.
Antibody Labeling Details
No data available
Phenotype Details
No data available
Acknowledgments:
ZFIN wishes to thank the journal PLoS One for permission to reproduce figures from this article. Please note that this material may be protected by copyright. Full text @ PLoS One