ZFIN ID: ZDB-FIG-100831-6
EXPRESSION / LABELING:
| | |
| --- | --- |
| Gene: | |
| Fish: | |
| Anatomical Term: | |
| Stage: | Pec-fin |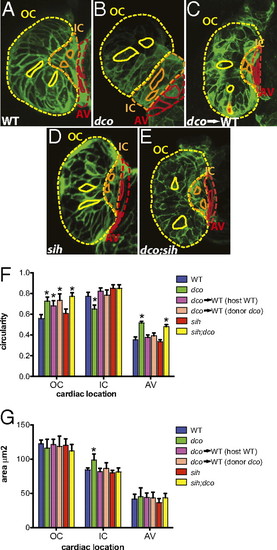 Fig. 3 Cardiac conduction, independent of hemodynamic flow or cardiac contraction, is required for cardiomyocyte morphogenesis. (A–E) Confocal images of 60 hpf embryos carrying the Tg(cmlc2:ras-eGFP)s883 reporter and (A) WT at the dco locus (WT), (B) dcos226 homozygous mutant (dco), (C) WT with dcos226 mutant cardiomyocytes carrying the Tg(cmlc2:dsRed)s879 reporter in the ventricle (dco → WT), (D) sih homozygous mutant (sih), or (E) dco;sih double homozygous mutant (dco;sih). Outer curvature (OC), inner curvature (IC), and atrioventricular canal (AV) are outlined in yellow, orange, and red dashed lines, respectively. Representative cardiomyocyte shapes for each area are outlined with solid lines. Bar graphs represent (F) cell morphology/circularity and (G) surface area measurements of Tg(cmlc2:ras-eGFP)s883 cardiomyocytes at 60 hpf from the outer and inner curvatures of the ventricle as well as the AV canal. Bar height indicates mean for a dataset; error bars indicate SE. *Statistically significant differences compared with WT (P < 0.001). Defects in electrical conduction result in aberrant cardiomyocyte morphogenesis.
Antibody Labeling Details
No data available
Acknowledgments:
ZFIN wishes to thank the journal Proceedings of the National Academy of Sciences of the United States of America for permission to reproduce figures from this article. Please note that this material may be protected by copyright. Full text @ Proc. Natl. Acad. Sci. USA