ZFIN ID: ZDB-FIG-090320-37
Your Input Welcome
Thank you for submitting comments. Your input has been emailed to ZFIN curators who may contact you if additional information is required.
Oops. Something went wrong. Please try again later.
EXPRESSION / LABELING:
| | |
| --- | --- |
| Antibodies: | |
| Fish: | |
| Anatomical Terms: | |
| Stage: | Adult |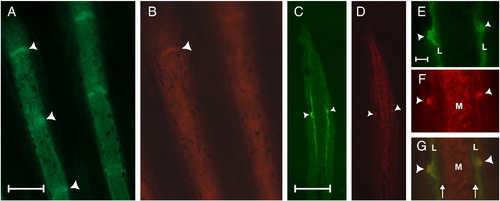 Fig. 2 ZNS5 and Cx43 detect different populations of cells in the fin ray, and are both expressed in newly developing joints. (A) Whole mount staining of ZNS5. (B) Whole mount staining of Cx43. (C) Longitudinal cryosection showing lateral ZNS5 staining and detection of one joint (arrowhead). (D) Longitudinal cryosection showing mesenchymal Cx43 expression and detection of one joint (arrowhead). (E–G) Higher magnification of the joint observed in C and D shown for ZNS5, Cx43, and the overlap. Arrowheads point to joints; arrows indicate the location of bone matrix. L, lateral; M, medial. Scale bars for A–D, 100 μm. Scale bar for E–G, 10 μm.
Gene Expression Details
No data available
Antibody Labeling Details
Phenotype Details
No data available
Acknowledgments:
ZFIN wishes to thank the journal Developmental Biology for permission to reproduce figures from this article. Please note that this material may be protected by copyright.

Reprinted from Developmental Biology, 327(2), Sims Jr, K., Eble, D.M., and Iovine, M.K., Connexin43 regulates joint location in zebrafish fins, 410-418, Copyright (2009) with permission from Elsevier. Full text @ Dev. Biol.