ZFIN ID: ZDB-FIG-080730-22
Your Input Welcome
Thank you for submitting comments. Your input has been emailed to ZFIN curators who may contact you if additional information is required.
Oops. Something went wrong. Please try again later.
EXPRESSION / LABELING:
| | |
| --- | --- |
| Antibodies: | |
| Fish: | |
| Anatomical Terms: | |
| Stage: | Pec-fin |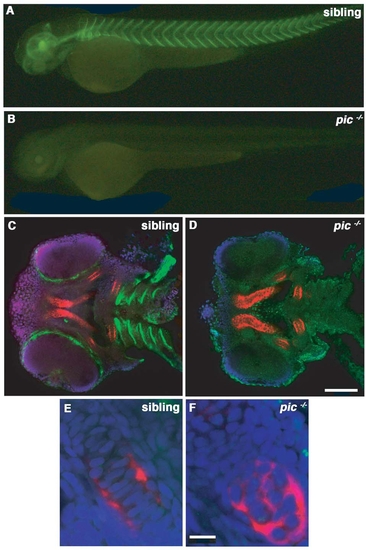 Fig. S2 The 10E4 epitope is not expressed in the developing cartilage. Wildtype (A,C,E) and pic-/- (B,D,F) localisation of the 10E4 epitope (in green) at 60hpf. Cartilage (collagen type II) is shown in red and nuclei in blue (C–F). Side views of the whole fish (A,B), ventral views of the head (C,D) and high magnification pictures of the ceratohyal (E,F). The 10E4 epitope is detected predominantly on basal laminae but is undetectable in the developing cartilage at the time of chondrocyte stacking. Panel D scale bar = 100μM. Panel F scale bar = 10μM.
Gene Expression Details
No data available
Antibody Labeling Details
Phenotype Details
No data available
Acknowledgments:
ZFIN wishes to thank the journal PLoS Genetics for permission to reproduce figures from this article. Please note that this material may be protected by copyright. Full text @ PLoS Genet.