ZFIN ID: ZDB-FIG-080502-28
EXPRESSION / LABELING:
| | |
| --- | --- |
| Gene: | |
| Fish: | |
| Knockdown Reagents: | |
| Anatomical Term: | |
| Stage: | Day 5 |
PHENOTYPE:
| | |
| --- | --- |
| Fish: | |
| Knockdown Reagent: | |
| Observed In: | |
| Stage: | Day 5 |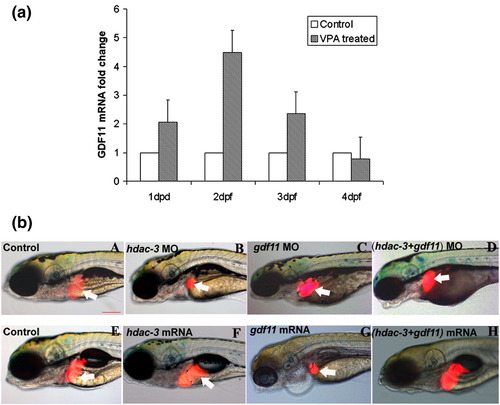 Fig. 11 (a) VPA induced gdf11 expression in zebrafish embryos. WT zebrafish embryos were treated with VPA at shield stage and total RNA was extracted at various developmental stages. gdf11 mRNA level was analyzed by real-time RT-PCR. gdf11 mRNA level of the control embryos at each stage is set to be 1. (b) gdf11 neutralized the liver defects induced by hdac3. To confirm that hdac3 suppresses liver growth by suppressing gdf11 gene, a double knockdown of hdac3 and gdf11 as well as simultaneous overexpression of both genes was performed. Knockdown of gdf11 neutralized the effect of hdac3 knockdown (D vs. B). On the other hand, overexpressions of gdf11 lead to a small liver phenotype similar to hdac3 morphants (G vs. E). Simultaneous overexpression of both genes leads to the neutralization of the liver phenotype induced by overexpression of gdf11 alone (H vs. F), although liver in the double overexpression embryos was often not restored to the same size of the control (compare E and H). Liver is indicated by white arrow. All images are lateral view of 5 dpf embryos, anterior to the left. Scale bar is 100 μm.
Antibody Labeling Details
No data available
Acknowledgments:
ZFIN wishes to thank the journal Developmental Biology for permission to reproduce figures from this article. Please note that this material may be protected by copyright.

Reprinted from Developmental Biology, 317(1), Farooq, M., Sulochana, K.N., Pan, X., To, J., Sheng, D., Gong, Z., and Ge, R., Histone deacetylase 3 (hdac3) is specifically required for liver development in zebrafish, 336-353, Copyright (2008) with permission from Elsevier. Full text @ Dev. Biol.