ZFIN ID: ZDB-FIG-080502-26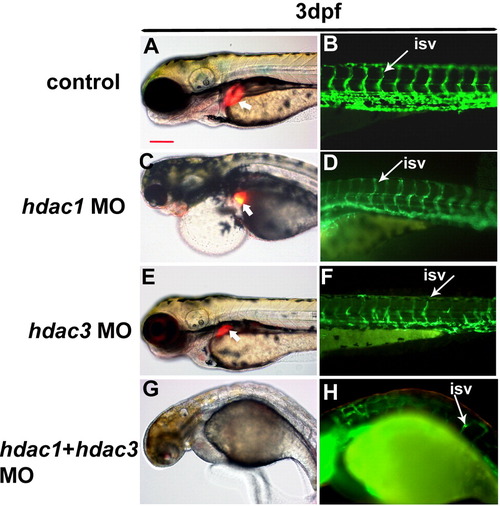 Fig. 9 Double knockdown of hdac1 and hdac3 leads to severe defects in embryonic development including liver and blood vessel. Double knockdown of hdac1 and hdac3 was performed by simultaneous injection of both MOs (hdac1 MO at 3 ng/embryo; hdac3 MO at 12 ng/embryo) into Tg(lfabp:RFP; elaA:EGFP) and Tg(fli-1:EGFP) embryos and was compared with the same quantity of 5 bp mismatch morpolinos (control, A–B). Liver (thick white arrow) was absent at 3 dpf and blood vessels (thin white arrow) were severely disrupted. Embryos were severely deformed in the double knockdown morphants (G, H) and they cannot survive beyond 3 dpf. All images were side view, with anterior to the left. Scale bar is 100 μm.
Antibody Labeling Details
No data available
Acknowledgments:
ZFIN wishes to thank the journal Developmental Biology for permission to reproduce figures from this article. Please note that this material may be protected by copyright.

Reprinted from Developmental Biology, 317(1), Farooq, M., Sulochana, K.N., Pan, X., To, J., Sheng, D., Gong, Z., and Ge, R., Histone deacetylase 3 (hdac3) is specifically required for liver development in zebrafish, 336-353, Copyright (2008) with permission from Elsevier. Full text @ Dev. Biol.