ZFIN ID: ZDB-FIG-070619-17
Stetsyuk et al., 2007
- Calsenilin is required for endocrine pancreas development in zebrafish. Developmental dynamics : an official publication of the American Association of Anatomists 236(6):1517-1525
Full text @ Dev. Dyn.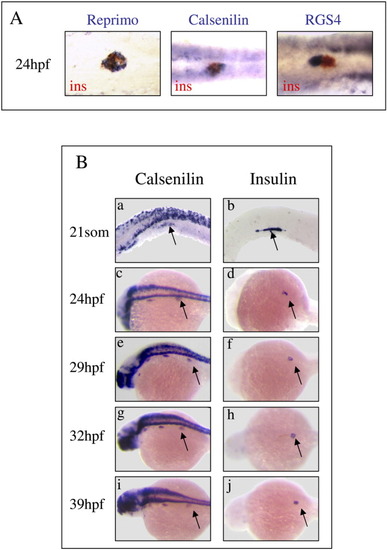 Fig. 1 Expression of calsenilin in the zebrafish pancreas. A: Search for new genes expressed in the pancreas: zebrafish at 24 hours postfertilization (hpf) were cohybridized with digoxigenin-labeled antisense probes (in blue) corresponding to the gene to be tested and fluorescein-labeled antisense insulin probe (in red). Calsenilin that was coexpressed with insulin was kept for further analysis. B: Expression of calsenilin during zebrafish development. Whole-mount in situ hybridization was performed with digoxigenin-labeled antisense calsenilin and insulin probes at different stages of development (21-somites, 24 hpf, 29 hpf, 32 hpf, 39 hpf). Arrows point to insulin-positive regions.
Antibody Labeling Details
No data available
Phenotype Details
No data available
Acknowledgments:
ZFIN wishes to thank the journal Developmental dynamics : an official publication of the American Association of Anatomists for permission to reproduce figures from this article. Please note that this material may be protected by copyright. Full text @ Dev. Dyn.