ZFIN ID: ZDB-FIG-061214-5
EXPRESSION / LABELING:
| | |
| --- | --- |
| Gene: | |
| Fish: | |
| Knockdown Reagent: | |
| Anatomical Terms: | |
| Stage: | Prim-5 |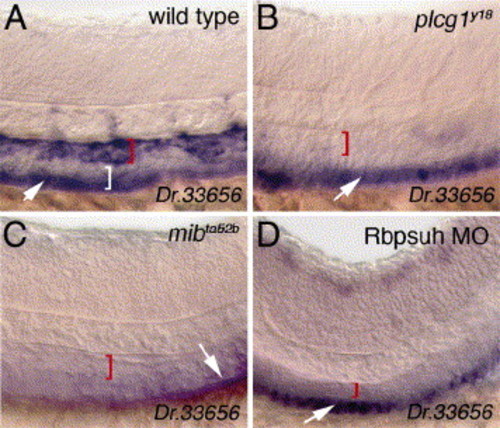 Fig. 6 plcg1 and mib are required for artery-specific expression of Dr.33656. (A) Wild type embryo. (B) Embryo mutant for plcg1y18. (C) Embryo mutant for mibta52b. (D) Embryo injected with 5 ng Rbpsuh Morpholino. Lateral views, anterior to the left, dorsal is up. (A-D) White arrow indicates expression in pronephric ducts (out of focal plane). Red bracket demarcates dorsal aorta in panels A-D, and white bracket indicates posterior cardinal vein in panel A.
Antibody Labeling Details
No data available
Phenotype Details
No data available
Acknowledgments:
ZFIN wishes to thank the journal Developmental Biology for permission to reproduce figures from this article. Please note that this material may be protected by copyright.

Reprinted from Developmental Biology, 299(2), Covassin, L., Amigo, J.D., Suzuki, K., Teplyuk, V., Straubhaar, J., and Lawson, N.D., Global analysis of hematopoietic and vascular endothelial gene expression by tissue specific microarray profiling in zebrafish, 551-562, Copyright (2006) with permission from Elsevier. Full text @ Dev. Biol.