ZFIN ID: ZDB-FIG-220521-7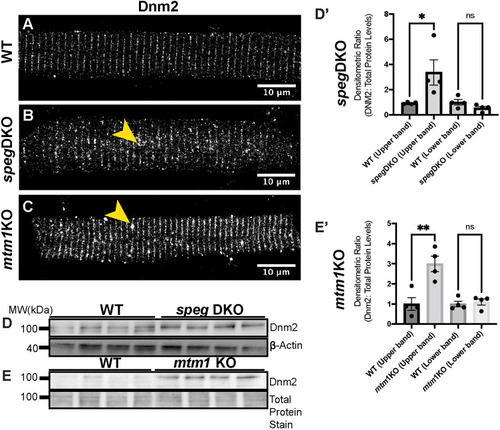 Fig. 7.
Dnm2 protein is upregulated in both speg-DKO and mtm1-KO zebrafish. (A-C) Myofibers were isolated at 5 dpf (speg-DKO) and 7 dpf (mtm1-KO), and stained with anti-Dnm2 (GTX127330, GeneTex). (A) In WT myofibers (5 dpf), Dnm2 is localized to the triads (transverse striations). (B,C) Similar striated patterns can be observed for Dnm2 in speg-DKO (B) and mtm1-KO (C), with occasional Dnm2 aggregations observed along the striations (yellow arrowheads). Scale bars: 10 µm. (D-E′) Western blot analysis shows increased Dnm2 protein levels in 5 dpf speg-DKO (D,D′) and 7 dpf mtm1-KO (E,E′) compared to WT. Each lane (D,E) or each dot (D′,E′) represents n=25 zebrafish (40 µg total protein). Densitometry was accomplished using Fiji ImageJ. Dnm2 protein level was normalized to β-actin loading controls in speg-DKO, or to REVERT total protein stains in mtm1-KO (as β-actin level is changed by the lack of Mtm1). Student's t-test: *P<0.05; **P<0.01; ns, not significant.
Gene Expression Details
No data available
Antibody Labeling Details
Acknowledgments:
This image is the copyrighted work of the attributed author or publisher, and ZFIN has permission only to display this image to its users. Additional permissions should be obtained from the applicable author or publisher of the image. Full text @ Dis. Model. Mech.