ZFIN ID: ZDB-FIG-220411-11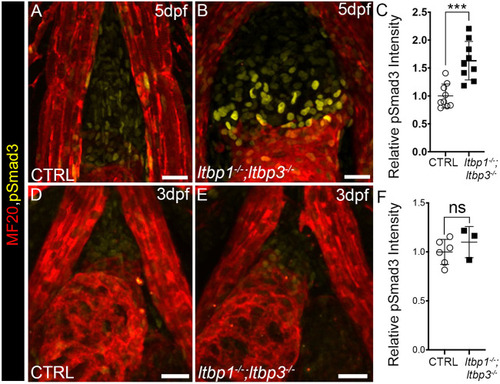 Fig. 4
Hyperactivation of canonical TGFβ signaling in the distended OFTs of ltbp1, ltbp3 DKO larvae. (A,B,D,E) Confocal images of OFTs in 5 dpf (A,B) and 3 dpf (D,E) control (CTRL; A,D) and ltbp1−/−; ltbp3−/− (B,E) larvae double immunostained for striated muscle (MF20, red) and phosphorylated Smad3 (pSmad3; green). (C,F) Dot plots showing the relative mean pSmad3 fluorescence intensities in the OFTs of 5 dpf (C) or 3 dpf (F) CTRL (n=9 in C; n=6 in F) and ltbp1−/−; ltbp3−/− (n=9 in C; n=3 in F) larvae. For C and F, statistical significance was determined with an unpaired t-test. Error bars indicate one standard deviation. ***P<0.01; ns, not significant. Scale bars: 20 µm.
Gene Expression Details
No data available
Antibody Labeling Details
Acknowledgments:
This image is the copyrighted work of the attributed author or publisher, and ZFIN has permission only to display this image to its users. Additional permissions should be obtained from the applicable author or publisher of the image. Full text @ Dis. Model. Mech.