ZFIN ID: ZDB-FIG-181004-16
EXPRESSION / LABELING:
Genes:
Fish:
Knockdown Reagent:
Anatomical Terms:
Stage Range:

Prim-5

to

Long-pec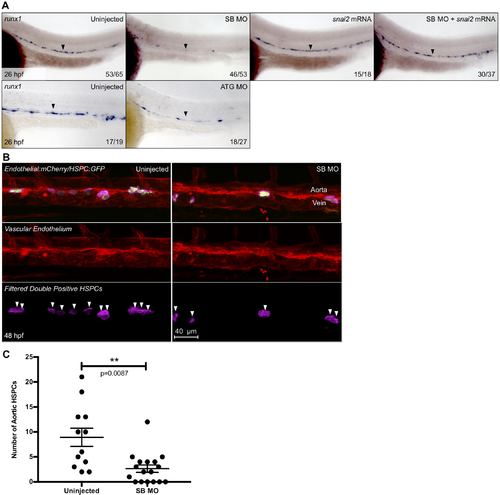 Fig. 3
Snai2 morphants display a strong defect in HSC specification.
Expression of the HSC specification marker, runx1, was analyzed by in situ hybridization at ~26 hpf in embryos injected with SB MO, ATG MO, and their siblings (A). The effect of snai2 mRNA injection was also analyzed both alone and when coinjected with SB MO. Black arrowheads point to the middle of the aortic runx1 expression. Numbers in the lower right hand corner of each image depict the number of embryos with the phenotype pictured out of the total number of embryos assayed in each condition. Tg(gata2b:Gal4/UAS:LA-GFP/kdrl:mCherry) morphants and their siblings were imaged by confocal microscopy at 48 hpf, and Imaris imaging software was used to remove GFP signal outside of the vasculature (B). Pink coloration is indicative of double positive cells as filtered by the surfaces feature of Imaris. White arrowheads indicate separate putative HSPCs. Quantification for each fish was graphed and statistically analyzed by non-parametric t-test on Prism (C). Error bars are SEM.
Antibody Labeling Details
No data available
Acknowledgments:
This image is the copyrighted work of the attributed author or publisher, and ZFIN has permission only to display this image to its users. Additional permissions should be obtained from the applicable author or publisher of the image. Full text @ PLoS One