ZFIN ID: ZDB-FIG-171129-15
Your Input Welcome
Thank you for submitting comments. Your input has been emailed to ZFIN curators who may contact you if additional information is required.
Oops. Something went wrong. Please try again later.
EXPRESSION / LABELING:
| | |
| --- | --- |
| Genes: | |
| Fish: | |
| Knockdown Reagent: | |
| Anatomical Terms: | |
| Stage: | Long-pec |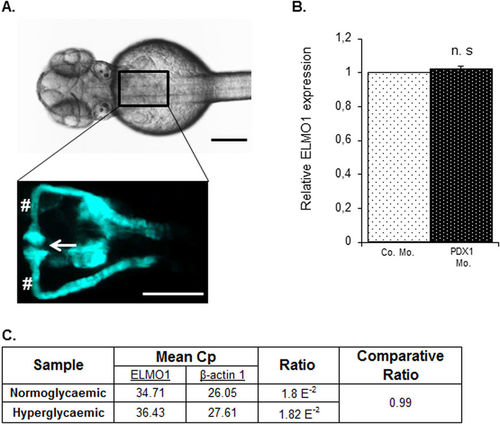 Fig. 2
Expression of ELMO1 is observed within the zebrafish pronephros but remains unaltered under hyperglycaemic conditions as compared to normoglycaemic fish.
(A) Illustrates the position of the pronephros in a Tg(wt1b:EGFP) embryo (48 hpf), visible from the dorsal view. The renal structure is composed of two tubules that are fused to form a single glomerulus (white arrow) via a neck (white hashtag). Both the scale bars represent 200 μm. (B) No change in relative ELMO1 expression was observed within the zebrafish pronephros under hyperglycaemic conditions (4 ng morpholino injection against insulin promotor factor 1, PDX1). Co. Mo. indicates 4 ng control morpholino. Pronephric cells were isolated for mRNA extraction via FACS sorting from Tg(wt1b:EGFP) embryos for cDNA synthesis and subsequent real-time qPCR analysis. (C) tabulates the mean Cp (crossing point of the amplifying fluorescence exceeding the background fluorescence) values of ELMO1 (target) and β-actin 1 (reference) expression.
Antibody Labeling Details
No data available
Phenotype Details
No data available
Acknowledgments:
ZFIN wishes to thank the journal Scientific Reports for permission to reproduce figures from this article. Please note that this material may be protected by copyright. Full text @ Sci. Rep.