ZFIN ID: ZDB-FIG-171003-4
EXPRESSION / LABELING:
Gene:
Fish:
Condition:
Anatomical Term:
Stage Range:

Long-pec

to

Day 4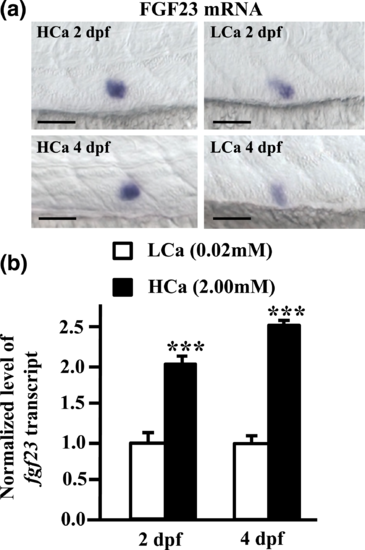 Fig. 2
Incubation in high [Ca2+] enhances (a) FGF23 mRNA signals and (b) expression levels in 2 and 4 dpf zebrafish larvae. In situ hybridization was used to detect fgf23 signals, and gene expression was analyzed by qPCR (values were normalized to those of β-actin). Student t test, ***P < 0.001. Values are the mean ± SD (n = 6). Scale bar: 50 µm.
Antibody Labeling Details
No data available
Acknowledgments:
ZFIN wishes to thank the journal Endocrinology for permission to reproduce figures from this article. Please note that this material may be protected by copyright. Full text @ Endocrinology